+

Embodying a Goddess for You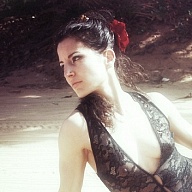 "I'm not suited to social striving upward mobility & making good impressions. I'm radically honest, sensitive, brilliant & blunt. I hold up mirror to the best & worst facets of human life" Vajrayogini
The Look
Akasha Babalon is a 5'1", slender, all natural, 35 year old caucasian woman with long brunette hair and black eyes.
She is available for Men, and Couples.
Sessions begin with a brief mutually participatory practice to calm our minds, bring us into a present moment and remove any barriers that may disrupt our rapport. It is designed to dissolve mental blocks and create intimate, loving and trusting atmosphere between us. This is an important element because it clears the space and sets the tone for the remaining of the session.
Various practices and touch techniques would be incorporated to guide your awareness out of every-day mundane thought and into your body and the present moment. Keeping your mind fully engaged and immersed in what goes on in the present is the key to experiencing every sensation more fully. It is also a pre-requisite for a holistically more fulfilling experience.
Through bodywork your energies will grow and intensify whereas you will experience an altered state of being, dwelling in a blissful suspension. At this stage I will facilitate practices and strategies borrowed directly from the Tantric tradition that will guide you to a fuller immersion into your own body-mind continuum, bringing about a greater level of self-awareness.
There are two ways in which you can chose to experience arousal and immersion into your sacred energies. I offer the following options: LIGHT ENCOUNTER and DARK EXPLORATION.
LIGHT ENCOUNTER
The emphasis in this session is to induce your relaxation, healing and body-surrender through gentle practices and sensual touch in a vanilla-style straightforward approach.
Rates for the Light Encounter:
1 hour – 300
1.5 hours – 450
2 hours – 550
DARK EXPLORATION
This type of session offers a variety of ways to explore your curiosities and embark on a journey of self-exploration. Some ideas include impromptu or pre-determined role play, swiching gender roles, cross-dressing, light or heavy verbal domination, foot worship, sensory deprivation, and other adventurous undertakings.
Rates for the Dark Exploration:
1 hour – 400
1.5 hours – 550
2 hours – 750
DOUBLE GODDESS SESSION WITH MAYA
I am currently traveling with a lovely friend and Muse that I have known for over a decade. Join us for an exquisite experience featuring synchronous 4 handed massage with hot stones and warm oil, a symphony of sensations and sounds. We offer both light and dark encounter type sessions. Please inquire with me for further details.
Our inner energy - our qi or prana - aroused through sensual channels is our most powerful medium for self-healing and self-transformation but the process of how this is done must be understood well in order for it to be truly effective. It is not superstitious, mystical and quasi-spiritual set of beliefs, it is highly practical as it has its basis in biological and psychological facts that are applicable to all individuals universally. How much you are able to draw and benefit from this particular method depends on your own openness, willingness and determination to grow.
I am only available to meet with gentlemen who are respectful and mindful of my boundaries. No pushy and abusive behavior will be tolerated.
IMPORTANT: Please when making an appointment with me treat it as you would any other professional interaction. If you schedule an appointment I will expect you to show up, unless you kindly touch base with me to cancel for whatever reason. Honoring my schedule in this way will ensure mutual respect and our future interaction. If you set an appointment but fail to show up without any notice, I will not consider seeing you ever again in the future under any circumstances. My enthusiastic nature keeps me very busy and engaged on many fronts hence I allocate my time wisely to accommodate my full schedule. Your consideration of my time will be most appreciated.
Interests
Kung Fu, Yoga, Meditation, Dance - Temple and Modern, Eastern and Western Spiritual Traditions - Buddhist and Hindu Tantra, Western Hermeticism, Thelema, Magick, Qabala, Sufism, Poetry, Art, Design, Psychology, NLP, Hypnotherapy
Expectations
Please note - I am not an escort.
I have boundaries that are to be respected otherwise the session will be terminated immediately.