+

Anything but Average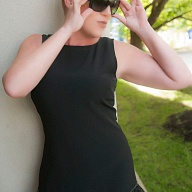 If I'd observed all the rules I'd never have gotten anywhere. - Marilyn Monroe
The Look
Erin Keevy is a 5'3", all natural caucasian woman in her late 40's with short red hair and blue eyes.
She is available for Men only.
Hello there my secret admirer. Thank you for stopping by. I would like to cordially invite you into my world. There is zero stress and pleasure is in abundance.
I can go from jeans and a t-shirt to an evening gown in the blink of an eye. Whatever the occasion I can pull it off. This is one of the benefits of the mature woman. Speaking of which I am a younger appearing 46 year old woman and I am all woman. Very perky 36 B breasts and a slightly curvy figure. I also have ginger hair, deep blue eyes and milky white skin that is silky smooth from daily coconut oil baths. I keep my hands and feet well groomed also via weekly visits to the salon.
I am overall easy going and I love to laugh and enjoy life. I did spend time doing stand up comedy. While that's in the rear view, I still have the silly chick in me. I am just me, not tough to look at, very easy to be around and totally in love with my life. I invite you into my life for a little while. Take it all off and stay as long as you like.
Well, I appreciate you taking the time out of your busy schedule to peruse my bio. I am very much looking forward to meeting some new friends and making some sexy new memories.
Until we meet…
Note: I am open to coming to your area by request. You can however find my weekly schedule is updated regularly on my personal website.
Tour Schedule
NYC November 30-December 2
Tysons Corner December 5-8
Touring rates apply outside of New England
Interests
I love to travel both in the U.S. and abroad. I have been all over our great country. I have also been to Europe twice and Iceland once. Learning about different cultures and meeting new people is most certainly one of my favorite things to do. I very much enjoy spending time with my family. I am the mother of two amazing sons whom are both in the military. I enjoy books and movies. I find both to be a welcome escape from reality. I am an avid shopper and don't mind saying that I am always hip on what's in style. I do not own mom jeans lol but I do own everything else. The ocean is also one of my passions. I am due to set sail to the Bahamas soon in fact. I enjoy anything associated with comedy. Life without laughter is totally unacceptable in my opinion. I would love to learn how to play golf and tennis. I am at an age where I am trying to better myself on every level. I am a foodie by nature. I very much enjoy trying new restaurants. Being an ex sous chef, I am a bit particular with food. But, it brings me great joy to cook for my gentleman friends. I love entertaining at my home and pleasuring you with my skills in the kitchen.
Should you want to spoil me, I prefer a gift card to either Amazon or Aponi Aesthetics in Worcester.
Finally please rememeber to support our troops. xo
Expectations
I expect very little but I do insist on few simple things. I do not appreciate violent behavior on any level. I am most definitely a gentler soul. I want you to be clean and will always offer you a shower. I require references. My safety is key! Lastly, you must be at least 30 years old and love the journey.