+

Sexy, sultry, mature Dominatrix, private estate home in Upper Westchester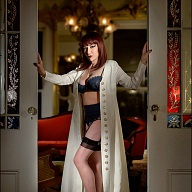 Life is always better than great when you're under my feet.-Madame Nicole
The Look
Madame Nicole is a 5'7", slender, all natural, mature caucasian woman with auburn hair and brown eyes.
She is available for Men only.
Madame Nicole of Upper Westchester and Istanbul, Turkey.
I'm a sexy, sensual, sultry mature Dominatrix who truly enjoys most aspects of role-play. I have some fetishes that we both may enjoy. I'm looking for a man who truly loves to serve me. I love telling you what to do to please me, because I know what I like and I'm not too shy to tell you.
At this time of my life, I know what makes you tick, I know how to get past your hard exterior & delve deep into your soul. I'm comfortable with these explorations, therefore, you'll feel quite comfortable in my presence. This is what's it's like when you're with me: comforting, relaxing, enjoyable, thrilling. We'll both have a great time. That's what it's all about now, isn't it? I love sharing my knowledge & years of experience with you, in a quiet, intimate setting.
I have the experience & confidence of a lady that has experienced much and traveled the world to share this with you. Perhaps you'd like to try something a bit different. You don't know how to approach the significant other for the usual fears. I'm here to share this with you because I'm understanding. Truly understanding of another side of you that you may not want to expose to just anyone. Confide in me, I won't judge you, I"ll simply explore sympathetically with you. I take great care with novices. This will be our little private world. I keep everything I learn in the strictest confidence. Secure servers always used.
Do you love the look of a woman in very high heels, wearing sheer dark seamed nylons & lacy black lingerie or a tightly laced black corset? Or perhaps in a tight-fitting black leather dress & thigh high black leather stiletto heeled boots? I think it's really hot & sexy! Don't you? I'd love to model for you! Don't you just want to take me in and worship and adore me? I'm sure you've fantasized about wearing these items yourself & perhaps dressing up in my clothes and lingerie? Well, you can do this in the comfort & privacy of my home. I'll gently instruct you with everything you need to know, my pet.
A polite email no longer than 10 lines that tells me about you and catches my interest will get further instructions on how to visit with me.
Please go to my website for more details and to submit a form, yes, just a form for now to me, my pet.
Life is always better than great
when you're under my feet,
Madame Nicole
Interests
Naughty boys. Very naughty boys. Naughty boys eager to please me. Naughty boys who take instruction well.
Expectations
You know how to present yourself, now, don't you?