+

That nerdy, cute and tiny woman you've been glancing at.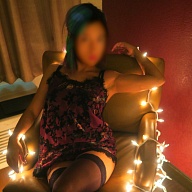 Some of the best moments in life are the ones you can't tell anyone about.
The Look
Luna Kali is a under 5' tall, all natural latina woman with short black hair and brown eyes.
She is available for Men, and Women.
In your immediate gaze, you'll see me gracefully making my way to you. With a smile on my face, I hug you because of how eager I was for our meeting. I am almost compulsively curious to experience what will become of us in our delightful session.
There is nothing more appealing to me than learning, wholeheartedly, about which beautiful personality traits get unleashed in a person. You'll notice that in my mannerisms; I have patience to discover what makes you tick. To awake you from a dormant state will cause my lunar smile to shine through. An out-of-this-world-feeling is what you'll receive from me, for my energy gets depleted when I give my all. I'm genuine in the way I carry myself, even though I am sometimes shy and demure. Slowly but surely, you'll see me bring my gaurd down, then sense the joy I get from the beginning and ending of our interaction. I carry these memories in a little compartment in my brain, and I feel as if this makes life all the more beautiful.
Expectations
Feel free to message me with the following:
-2 Provider references
-and/or Work verification (such a LinkedIn)
My website makes things a little easier to pass screening, so inquiring there is ideal. Plus, you get to fill out sections in detail so you can let me discover more about yourself which is always nice.