+

An Affaire de Coeur to remember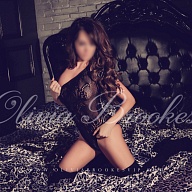 I can resist everything except temptation. Oscar Wilde


Sometimes you just want a woman on your own level, a beautiful, mature, well-heeled companion who has lived a fantastic life and has the wit and wisdom to prove it. I'm in my early-forties and that's me to a tee. As such, I'm utterly grounded in who I am and seeking gentlemen of a similar persuasion. A cut above the usual, if you're looking for all the warmth and frisson of a date, minus the tedious complication, you've met your match in me. Strictly for those who prefer substance over fluff and enjoy the very finest in life, I'm understanding of life's complications and offer a unique escape from the daily grind.
The last thing I want is a conventional relationship. I find there are just too many constraints to this arrangement. After all, I have a rich and fulfilling career and I'm here solely for a diversion from the norm. Could you be the one to help me cut loose a little? Once we're better-acquainted, I'm as adventurous as it gets. Together, we can allow our imaginations to run wild.
I don't believe in cursory 'sessions' and 'appointments.' Quick fixes don't work for us. Perfectly content to see the same special gentlemen time and again, I rarely look to expand my circle. But if you're a gent who prefers ongoing engagements rather than one and done, you might be just the one I'm looking to allow into my world. Let's get to know each other better in an experience that unfolds deliciously and sensually over time. Sparkling conversation, absolute discretion, the compassion that comes only from true life experience. Don't settle for typical. I'm the whole package sensual, authentic and drama-free. Why waste time splashing about in the kids pool when we can dive in at the deep end?
Mature and one-of-a-kind companion with taste for the best.
I operate in a different mode to the usual companion experience. My mantra is: high standards, low volume. Educated, mature and self-confident, I know myself entirely and am certain what I want. That is: an unforgettable time with gentlemen who share this selective mindset. Smart and grounded, I'm certain that what I bring to the table is unique, timeless and unrivalled. If you want what no one else has, look no further.
This is far from my only pursuit. As a business owner and actress in mainstream motion pictures, you can imagine I'm pretty busy my diary is usually blocked weeks in advance. For that reason, I require at least 24 hours notice and only entertain arrangements of 2 hours minimum, preferably longer.
Like you, I sometimes crave an escape from the everyday. This is my once-in-awhile indulgence. At the very most, I step into this realm a couple times a month. It takes a particular type of gentleman to capture my attention. Kindness, intelligence and a sense of humor are qualities I look out for, and well-crafted enquiries for extended dates will always pique my interest. Treat yourself to intimate excellence. Go for someone of substance. Let's experience the difference on our own terms.
The Look
Olivia Brookes is a 5'2", slender caucasian woman in her early 40's with medium length brunette hair and blue eyes.
She is available for Male only.
Interests
A total health nut, I take great pride in keeping my body and mind in excellent condition. I love to explore new places, particularly major cities. Cosmopolitan and cultured, I make an excellent tour guide and travel buddy. I have a knack for finding hidden gems. I am an actress on stage and big screen and enjoy many artistic endevors… Laughter. Anyone who cracks me up will get under my skin and stay there.
Expectations
Looking to spend time with a gentleman who doesn't want what everyone else is after. Delightful and discerning, I have no time for time-wasters.
Naturally, screening is mandatory & advance booking is highly recommended to ensure a speedy and smooth meeting. Take a moment to compose a real enquiry two-liners or worse, vulgarity, will be ignored and routed straight to the garbage can.
Manners go a long way. With me, you won't get anywhere without them.