+

Purveyor of Pleasure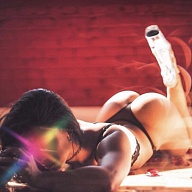 A woman's capacity for sensual and spiritual bliss is based on her heart's capacity to remain open as unobstructed love- the love that is her very nature. And my heart, well, my heart is wide open.
Emma here (formerly Leighton). I am in interesting mix of contradictions: An old soul,young at heart. Crave comfort, drawn to the edge. Wild yet soft, holy and sensual. Want security, but I need adventure. I don't ignore my body/mind or its longings for intimacy and companionship.
Always laid back, easy-going, and a good listener, you'll feel at ease around me. I'm attractive, in good shape, intelligent, kind, very curious, adventurous, and open-minded. No judgment. Come as you are. (As long as that you is showered, lol)
Screening/verification is must. Scheduling happens only after screening is complete. This is for my safety and protection and yours. In order to verify you and to expedite the process, please send along with your original inquiry the following info:
-full name
-phone/email
-desired date/location/time/duration
-name and contact info (or profile link) of 2 providers you have seen recently.
1 hr 500
90 mins 850
2 hr 1000
3 hr 1500
4 hour dinner/adventure: Dine out, order in, cook for me, attend a play, a symphony, a comedy show, or aauarium, hiking, kayajing, rock climbing then home to unwind and decompress. Customizable experience to your preferences and desires.
(Appts 2hrs or less with less than 4 hrs notixd pls add 50)
Outcalls. please add 50. If outside New Orleans Metro area, travel costs must be taken care of beforehand.
I do see couples, quite enthusiastically. 150/hr additional.
I am low volume, high quality companion. I do not offer coupons, bogos, half hours, or participate in haggling.
However, if you are in the healing professions, or on a path of service, a marginalized person & are a regular (at least once per month), I do offer a reasonable discount. Proof of occupation will be required to prevent abuse of this offering. (i.e., counselors, fireman, EMS, teachers, charity workers, counselors, differently abled, etc.
Treat me well and you'll be my King, to claim all the love, respect, consideration, and bliss of which you are deserving.
The Look
Emma Decarlo is a 5'1", athletic, 30 year old caucasian woman with medium length black hair and brown eyes.
She is available for Male, Female, and Couples.
Interests
A little extra info about me: I love traveling, reading, learning, and attending performances (i.e., dance, ballet, musicals, plays, theatre). I take very good care of my body and health and it shows. Im an adventurous eater, appreciator of literature, poetry, and art. I have a proclivity for nature/outdoors, animals, and nature. nature. Oh, and being in nature. Hiking, volcanoes, waterfalls, jungles, highlands. lowlands, tundra, rainforest, wildlife. I feel most alive traveling and being in nature. I love a good massage (receiving and giving). But a simple vase of flowers also fill me with gratitude.
Im attracted to down to earth humans. Respectful. Attentive. Kind. Appreciative. This and laughter put you on the path to the temple of my heart. It's a warm and welcoming, all embracing place. You dont have to be rich, handsome, hot, charming, or outgoing. I certainly would not turn you away for that. However, Im more interested in character and what lies beneath the exterior.
Expectations
Place offering in envelope within view before our session. No direct exchange for both our protection. Please arrive clean and showered.
Introduce yourself, provide referrals, when you'd like to meet. "hey baby" or "you available" don't stroke my fire. No phone calls/pics until we've met a few times & established trust.
ఌNo call, no show 100% cancellation fee, 50% deposit for future appointments.
ఌA pattern of last minute cancellations: 25% cancellation fee and a 25% deposit for future appointments.
ఌRunning late? Please communicate. If my schedule permits, the entire appt can still happen. If not, I will have to stick to our agreed upon end time and full donation is still required.
ꨄ15% deposit required for 1st time clients under 25.