+

Exquisite, erotic, sweet and naughty when necessary. ;)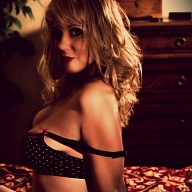 "Pisces woman causes "commotion" without even knowing it. Though she fancies herself fairly demure and ladylike, she has the distinct ability to send those around her into a bit of a… tailspin." ;)
The Look
Lina is a 5'8", slender caucasian woman in her early 40's with medium length blonde hair and green eyes.
She is available for Men only.
Hello Gentlemen,
When was the last time you felt so sexy, desirable and virile that you wanted to say "Thank you for making me feel like a man!" There is honest to goodness nothing more exhilirating to me than leaving you feeling that way. It is one of the many reasons I look forward to getting all dressed up for you. I love it when I turn heads… but only when it's because I look sexy and glamorous, and the man I am with is the envy of those who do turn their heads.
I know how to dress appropriately for any occasion, but underneath whatever it is we have decided is right for our occasion, I have supple (REAL) D cup breasts, long lean dancer legs that are even longer in 3 inch heals, soft skin, a swan like neck, and other truly "sweet and delectable" reasons to message me immediately. ;) Let me melt away the stresses of mundane everyday life and seduce you with my elegance, charm and my desire to give you everything you need to get lost in lust, sensuality and pleasure for an evening… or two. ;)
I aim to provide you with a truly erotic experience of the body AND mind, captivating you by the senusal and titillating creature that I am. I may look like the girl next door, but you can trust that I'm all grown up, with the experience and maturity to match. So be sure to check out my personal website. There you will find much more about me, lots of photos, my rates and specials, and I also have a Members Only page for those interested in even more intimate details… and so far the feedback on that has been quite… well, I'll just say "appreciative" ;) I genuinely enjoy being a man's fantasy and I look forward to every opportunity to do so. :*
~Lina~
Interests
In Short…
Career~ Performing arts and Education
Music~ Everything
Food~ Almost everything as long as I don't have to cook it.
Movies~ Yes, please!
Interests~ Green places with lots of water, physics, the human brain and behavior, girly-girl BLING! and shopping, fetish photography, sexuality
And should you have the time for "the rest of the story"…
I am a classically trained professional dancer by trade, having performed in Las Vegas shows such as Jubilee since 2002. There is nothing more enticing to me than being draped with little but jewels and feathers, being the epitome of femininity for an entire audience. Now I teach dance, as my degree was in dance education.
I generally just love the live theater and have been known to play some dramatic roles, musical roles, and even some cooky and fun comical parts as well. The stage is my first love, whether it's on stage, directing or choreographing or being in the audience.
I also love to watch movies. Mob movies are some of my favorites. And as far as music, I can find songs I love in ANY genre of music, but if I had to pick one "favorite style" it would have to be good 'ol rock and roll.
I love nature and wish I could see greener parts of the world more often, as well as sea-coasts… or anywhere with more water. Although I can cook, I don't actually enjoy it. What I do enjoy is eating amazing, creative and exquisite food. Almost any kind, except seafood.
I am also somewhat of a "nerd"… I love physics and neuroscience and have been told I would actually make a great theoretical physicist. I've also been told I would make a great therapist as my empathy, open-mindedness, and sense of concern for people is pretty much off the charts. :) I am true conversationalist and small talk is like one of the circles of hell to me. People and human behavior fascinate me… including our sexuality that goes beyond reproduction. I love to learn what makes people tick.
One of my favorite pastimes is shopping, especially for clothing and accessories that make me feel beautiful, feminine and sexy. I love getting dressed up, especially to impress, or even a "private audience," but I also enjoy casual wear and you will rarely catch me obsessing over my hair or makeup while you look at your watch having been ready for the last 30 minutes!
I have a bit of an exhibitionist side as well as "delusions of grandeur" of being the next Betty Paige, with her style and pin-up fetishism so perfectly blended for the gentlemen's delight. Sensual photography are definitely part of that for me as well.
Basically, I am an open-minded, responsible and multi-faceted woman who feels that what I can provide in drama-free, respectable, and even customized companionship is of great value. Your pleasure is HONESTLY my satisfaction.
Expectations
~Please contact me through e-mail, my website, or by text with a first name from an unblocked number.
~Although a few hours notice may be possible at times, please try to book with 24 hours notice.
~Please be courteous in your communication. I do not tolerate time wasters, one liners, crude inquiries, or picture collectors, especially sexually explicit language.
~Please understand that I do require a quick and non-inasive screening process.
~Please have my donation already counted and placed in plain sight or in the restroom upon my arrival.
~Please take great care with your personal hygiene.
~Please NEVER disclose to me any information about yourself or your business that may be extremely confidential, private, or sensitive.
~Please never be under the influence of drugs or be intoxicated to the point that you are incoherent during our time together, and please do not have illigal substances on your person while we are together.