+

No constructed persona; no script.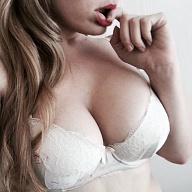 Tired of inauthentic experiences and/or touch-me-not hauteur? Let's talk. I'm exactly as I claim to be: warm; affectionate; intelligent; sensual; and above all, real.
The Look
Kitty Carr is a 5'3", all natural, 25 year old caucasian woman with long blonde hair and blue eyes.
She is available for Men, Women, and Couples.
A disarmingly charming and down-to-earth lass who emerged from her chrysalis made of books around the age of 18 to travel the world, I'm the endearingly eclectic result of a private girls' school education, a shy childhood mostly spent reading everything in sight, and an international upbringing. I speak two fairly uncommon languages fluently and like to call myself a cunning linguist with a passion for new and interesting vocabulary, but really I just enjoy the looks on people's faces when I open my mouth after they've been discussing me assuming I don't speak said language. You have to try it.
Living abroad changes a person. I'm often complimented on a level of conversational ability, intellect, and emotional maturity that belies my years. I'm in my mid-twenties, by the way, but I'm always the one who gets carded and asked what I'm studying. Anyway, age really is just a number for me: I love older men. It's become a bit of a habit lately.
An appealing amalgamation of down-to-earth grad school girl who always makes the Dean's List, glamorous inconnue who relishes turning heads in a form-fitting black dress just the right side of conservative and killer heels, A-type perfectionist who is always ten minutes early (thanks, Japan), and semi-pro emoter and empathiser, as Kitty, I have melted the most cynical hearts with a killer combination of openness, affection, and a healthy dose of joie de vivre.
I freely admit I can also be quite (very) silly, and will do my utmost to make you laugh. If you are a wielder of puns and jokes that make people groan, we will get along famously. Wit, charisma, and compassion go much, much further with me than good looks, by the way.
Basically, if you're tired of inauthentic experiences and/or touch-me-not hauteur, then we need to talk.
My double life here represents a journey of self-discovery for me: of giving myself over to pleasure and passion, and of drawing you into that world with me, if only for a little while. No life is complete without pleasure, and everyone deserves to feel wanted.
My life is also about real connection. I reject the fake, the dishonest, and the insincere. I am a bad actress and a worse liar: I have no constructed persona, no script. You'll find me exactly as I claim to be: warm; open; funny; intelligent; empathetic; and, most of all, real.
So come on. Take my hand. Let's explore.
Interests
I am a highly social creature and very much enjoy anything that involves meeting, talking to, and playing with other people, be it at the gym, my favourite wine bar, a show, a play, or just a picnic in the park with friends.
I am a wine fanatic and love nothing better than finding an excuse to open a bottle with a companion. On sunny days, you'll find me either cycling around looking for an interesting cafe to spend a few hours in or lying on a rug at the park with a good long book (I'm a speed-reader). I adore leisurely dinners with people I like (you?) and am a carnivore with a near-constant hunger for great sirloin done rare. Game of Thrones is the only TV show I have ever kept up with, and I watch it and squeal at the gory bits.
Having been brought up abroad, it goes without saying that I have wanderlust and love to travel. I've been across Asia, Europe and America, but still have many places I'd like to explore. Maybe my next adventure will be with you?
Expectations
Please see my website for details.