+

If you want to live authentically; if you want to live deliciously -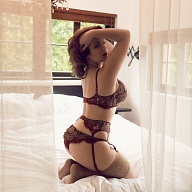 Tired of inauthentic experiences and/or touch-me-not hauteur? Let's talk. I'm exactly as I claim to be: warm; affectionate; intelligent; sensual; and above all, real.
The Look
Kitty Carr is a 5'3", all natural, 25 year old caucasian woman with shoulder length brunette hair and blue eyes.
She is available for Men, Women, and Couples.
What do you want?
Not an easy question, I know.
Let me tell you how I felt, then, before all this:
stuck in my routine, desperate for unpredictability in the day-to-day
achieving everything I was supposed to achieve, but wanting more
ticking all the boxes of what I was told to want
frustrated, bored, tired of the ordinary.
Sound familiar?
You're driven, self-made, responsible;
all your life you've strived, achieved, won.
You've amassed all the trappings of success.
You're a model of discipline and hard work.
You have it all.
Or so anyone might think.
And yet,
That persistent little voice from deep within:
"What happened?
How did I get here?
Is this it?"
What happened to the sweet chaos of desire?
To the unpredictability of attraction?
To the excitement of the chase?
To your soaring, thrilling, painfully intense desires?
Wouldn't you like, if only for a short time, to put aside your disguise
To live, laugh, pursue with reckless abandon
To desire without shame
To be intensely, completely yourself?
And who am I, you ask, to ask such bold questions?
(I can be a little bit forward sometimes.)
Fiercely intelligent but sweet and softly sensual;
warm, open, funny, empathetic, real.
No constructed persona, no script;
I emphatically reject the fake, the dishonest, and the insincere.
If you want to live authentically
if you want to live deliciously
If your heart sings 'yes, yes, yes!', then:
come on
take my hand
let's explore.
Interests
I am a highly social creature and very much enjoy anything that involves meeting, talking to, and playing with other people, be it at the gym, my favourite wine bar, a show, a play, or just a picnic in the park with friends.
I am a wine fanatic and love nothing better than finding an excuse to open a bottle with a companion. On sunny days, you'll find me either cycling around looking for an interesting cafe to spend a few hours in or lying on a rug at the park with a good long book (I'm a speed-reader). I adore leisurely dinners with people I like (you?) and am a carnivore with a near-constant hunger for great sirloin done rare. Game of Thrones is the only TV show I have ever kept up with, and I watch it and squeal at the gory bits.
Having been brought up abroad, it goes without saying that I have wanderlust and love to travel. I've been across Asia, Europe and America, but still have many places I'd like to explore. Maybe my next adventure will be with you?
Expectations
Please see my website for details.