+

VIP Hawaiian Dream Companion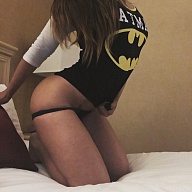 Looking for ultimate pleasure and to be your friendly companion available nationwide. Let me be your pacific muse!
The Look
Keiki is a 5'1", slender, all natural, 25 year old woman with long auburn hair and brown eyes.
She is available for Men, Women, and Couples.
I've been a pretty uninhibited girl for a long time, in my head anyway. But once I took the dive into the real thing…oh boy, no turning back. I love eroticism, slow anticipation, feeling and acting alittle bit naughty, who doesn't? I've tried a few things, and quite a few I haven't YET but I am open to trying almost anything.
I am a mix of sedate and very outdoorsy. I love hiking and being out in nature. I am Hawaiian by descent but grew up in Portland, Oregon. I study Fisheries and Wildlife at Oregon State University. I love wildlife –both kinds really – and hope to have a great career in the Forest Service some day.
I am comfortable in almost any setting and get along with all types of people. I'm at ease at the symphony or dancing in a honky-tonk. One thing I haven't done yet but am dying to do is go to a theatrical production and the opera. Hint, hint.
Am I fun? I guess you need to decide that. You can look at my pictures in my gallery. I can say I have the attitude for it. I love a man who can sometimes let me take the lead…believe me, do it once, and you'll see what treats are in store. On the other hand, I can be submissive and let you lead. Guess I am ambidextrous, right?
As I said, my bucket list has a few entries. And my biggest turn-on? A man who likes, no, loves, to kiss. Making out is such a turn on and if you're a aficionado of dining in, you immediately go to the front of the line. And stay there for a good long time, lol. I want to explore everything, so send me a email and lets plan something! I do screen and love for everyone to be safe. please send me references of ladies you have been with in the past. Two email addresses, if you do not have any, I can verify you with employment verifcation. Can't wait to make some fun memories! email me at keikipacificmuse@gmail.com.
kisses, keiki
Interests
I love being outdoors, and being around wild animals. ROAR! I love to read. The more that I am growing up, the more I just want more knowlege of everything. I read carl sagan books, real estate, history of america, tribal leadership books, planting books, survival wilderness books, wolf books, pshycology books, marketing books, and anything EROTIC! I am big on working out. I love to do alot of jogging and just let my mind wander. I love to cook. I have been getting into that and watching the food network.
Expectations
please when you email me give me a proper introduction of yourself, so I can see what type of man you really are and why you would like to see me. If you do not, I will take priority over other emails. I am a true companion trying to make your desires come to life. Proper introduction to Keiki requirements: your name, and alittle about yourself. what city you are in, what time you would like the appointment, and length. you will need two references from established ladies you have been with in the past year, or p411. I will need thier email addresses. I have high standards for my screening and I hope that puts your mind at ease at what kind of companion I really am. If you have an alternative to my screening requirements, please feel free to ask if I accept that.
hours that I work are during the week, and some sundays. My donation for Seattle and Chicago area are INCALL an hour is 500, two hours 1000, and so forth. My OUTCALL hour donation is 600 per hour, and I have a requirement of 2 hours for any OUTCALL. My Touring rates are different and go check those rates out at http://keikipacificmuse.com/rates I provide overnights and vacation getaways worldwide. I do expect for the airfare and transportation expenses to be included at time of booking.