+

All-Natural & Hairy Brunette Beauty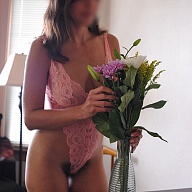 Lest you get the wrong idea from my fancy prose and photos, I assure you that I am silly as hell and love a good joke. I have a fetish for really bad puns.
The Look
Katherine Kale is a 5'7", all natural, 30 year old caucasian woman with long brunette hair and hazel eyes.
She is available for Men, Women, Couples, and TV/TS.
I'll be visiting NYC May 15 - 17!
Otherwise, you can find me in Seattle.
My name is Katherine Kale. I am an all-natural brunette beauty with golden skin and luscious natural body hair. A strict regimen of rich, delicious food and outdoor exercise has sculpted my body into lithe curves. I'm a graceful combination of soft and strong, fit and feminine.
At seventeen I made the decision to let my body hair grow as it pleases. Though I admire the flashy brilliance of my diva sisters, I have never felt comfortable wearing lots of makeup and jewelry. My beauty is simple and timeless. With my big, dazzling eyes and cheerful smile, I guess you could call me a girl-next-door.
I am a true libertine with a deep love for the natural world and my fellow humans, flawed though we may be. I rejoice in the human body, in its textures and scents, the unruly hairs that sprout from its hidden places, all of the "imperfections" that bestow upon each body its unique and titillating charm.
When you meet me, you're meeting the real me—sweet, sexy, and down-to-earth. I seek genuine connection in any encounter, and I find that laughter often helps. New friendships can certainly have an air of intensity but we needn't take ourselves *too* seriously—this is supposed to be fun! Lest you get the wrong idea from my fancy prose and photos, I assure you that I am silly as hell and love a good joke. I have a fetish for really bad puns.
Adventurous, intuitive, intelligent, candid, wild at heart… words are pretty but cannot compare to the visceral, soothing warmth of close and intimate conversation. I'm here to bring a little levity into your life, to help you relax into yourself, and to rejuvenate your lust for life. I'm your much-needed vacation.
Perhaps you're a little nervous to contact me, a mysterious, beautiful stranger—and who wouldn't be? But one thing I've learned from my all of my adventures: sometimes you've just got to jump in.
Interests
Travel, reading pop science and sci-fi, hiking, camping, gardening, running, cycling, quiet moments in the forest, biology, chemistry, zoology, ecology, sewing, combing my armpit hair…
Expectations
Rates
Public Companionship - 200 per hour
Private Companionship - 600 first hour, 500 each additional hour
Screening required for all new friends. No exceptions.
When you're ready to set up your date, send a polite message to katherinekale@protonmail.com, and include the following information:
- your name, line of work, and physical description or photograph (I do not discriminate)
- desired meeting date(s), time(s), and location (incall or outcall)
- desired length of meeting (how many hours)
- provider references - or - professional verification
- p411 ID if available
- any other information that might put me at ease or let me know more about you
Any lewd or explicit emails will be promptly deleted.
Provider References
Have you had a good experience with a provider? Send me a link to her active ad which includes contact information. I will then contact her to verify that you are a well-behaved gentleman. Two provider references are better than one!
Professional Verification
Send a link to the website of the company where you work that includes an email address or phone number where I can reach you. I will then contact you via mutually-agreed-upon and discreet means. Once I verify that you are indeed who you say you are, we can go forward!
Please see my website for more information on etiquette. :)