+

Your Alternative Companion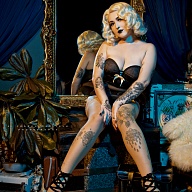 "I've always loved the idea of not being what people expect me to be." - Dita Von Teese
Hello Stranger,
Never quite able to fit in, I learned very early on that I was meant to stand out. My look and interests have always been different of those around me. Now in my twenties, I've found a deep appreciation for the dichotomy life has to offer. Like a cat with nine lives, I have led a life that has helped me attain wisdom, unique experiences, and a way with words that will entice you. I take pride in my life and sharing my experiences to create a genuine connection. I've always been told that my personality is a sweet surprise given my alternative look. With a captivating smile & a lighthearted laugh, I love to get lost in another—mind, body, & soul.
​
When was the last time you allowed yourself to fully indulge? To allow yourself space to let go of yourself and get lost in another—her beauty, her laugh, her touch. You dedicate so much of yourself to others, it's time for you to dedicate that same love and space to yourself. I want to to be your escape from the monotony that life can hold us all in. A luxurious escape to satiate dreams and quell responsibility. Could it be my soft embrace you've been running to?
Standing 5'9" with 34DD - 28 - 40 measurements, I'm the perfect amount of natural curves that will have you in a trance.
+CHICAGO & FMTY - January & February +
+ PHILADELPHIA - March 24 - 27 +
+Birthday - January 2nd+
The Look
Lilith Nyx is a 5'9", curvy, 24 year old caucasian woman with short auburn hair and green eyes.
She is available for Male, Female, Couples, and Trans.
Interests
Originally from Miami, Florida. I have a background in the veterinary & animal science field and the arts. I have been vocally trained, taken a dip in many different types of dance, acting, & musical theater. I used to front a band and spent a lot of time in the arts & music scene. I currently work independently on music and have been birthing a new industrial project that hopefully one day I'll share with the world. I used to work with & study bats (very goth, I know) and being from Florida, spent a lot of time in the water, tagging sharks, maintaining & caring for ecosystems, and working with Universities in rehabilitation for endangered species.
In my natural habitat, you can find me curled up with a book to read, enjoying the outdoors, at a local art gallery or music venue, or participating in many different exercise activities —such as pole dancing or strength training & conditioning. As someone who values the wealth of knowledge through experience, I love traveling and am always up for an adventure to somewhere new. I don't stay in one place for too long and am usually exploring, whether that's somewhere close by in Chicago, across the world, or maybe just deep in the pages of a good book. Always having been fond of animals, I maintain a vegan diet and have been meat-free for over a decade. My passions have always included welfare & rights—human rights, animal welfare, and environmental impact are something I am always involved in, where it's volunteering, donating, or reading & education.
As far as gifts and treasures go, they are never expected but I would be denying myself if I didn't admit a well-picked delight won't makes my eyes light up and bring a huge, genuine, smile across my face. Thoughtfulness goes a long way with me. If you want to pull out all the stops, a concert ticket to see one of my favorite bands (maybe we fly overseas and see The Cure together?), rare vinyls, lingerie, latex, or an escape— AIRE Ancient Baths or a trip overseas. You can find more suggestions on my website under "Spoilings".
However, nothing can compare to more time spent with you. As a hedonist, indulging in one another is the best gift of all. If you are booking an extended rendevouz with me, just know you have excited me beyond belief and I look forward to planning our escape together, or maybe one of us can suprirse the other.
Expectations
Deposit & screening required for all meetings.
1 Hour | Short & Sweet - $400 (incall only)
​
1.5 Hours | Preferred Minimum - $550
​
2 Hours | Proper Introduction - $700
​
3 Hours | Cocktails - $1000
​
4 Hours | Dinner Date (2 hours social time)- $1200
​
6 Hours | Night on the Town - $2000
12 Hours | Breakfast - $2500
​
24 Hours | Day-Long Escape -$4000
​
48 Hours | Weekend Getaway -$8000
​
Extended Date & Monthly Arrangement -Inquire
Each Additional Day - $2000
In-Date Extension - $300 per Hour
I am availible to men, couples, women, gender queer & non-binary babes, trans-folk and anyone in between who is safe, hygienic and respectful. I never discriminate on the basis of race, gender, orientation, disability status, etc.
I also offer sliding scale rates for fellow providers & adult industry professionals and a 15% for LGBTQ+ patrons. If applicable, please inquire further when booking.
Please leave consideration in large bills tucked in your favorite book, vinyl or in an envelope upon meeting and do not ruin the mood by mentioning it. My consideration is NOT negotiable.
Cancelation within 24hrs will result in a 50% fee due before any future booking.
If you have any other questions, there is more information on my website!