+

Voluptuous, Tattooed, Blonde Bombshell located in Roscoe Village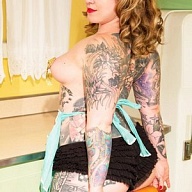 My body is an expression of my art, from head to toe my creativity pours from my soul. I see my skin as my canvas, my tattoos are images that are representative of who I am, of how I've evolved.
Blending my years of massage training with my passion for kink, I create a unique sensory experience. Warm to my upbeat, bubbly personality, and I'll offer you a safe space for both of us to explore. Join me in an experience you'll never forget.
My sessions are for the fetish enthusiast who want to be sweetly caressed and slowly stretched. I blend full body massage with my passion for kink, creating a unique sensory experience. Relax on my heated massage table as we begin with light touch expanding your pleasure and stretching your boundaries.
Whether you're a novice or an expert, my sessions are tailored to your experience and boundaries. I require all my clients to enema before our kink session. Please refrence my website for more information.
If you want to try something a bit more tame, relax and rejuvinate in my oasis with a full body massage. Breaking the ice can be a bit nerve wrecking, what better way to ease the nerves then with a nice massage?
My long blonde curls fall across you as my delicate porcelain skin faintly brushes against you. Your senses will be overwhelmed by my wandering hands; leading you away from all your worries.
Allow me to guide you through your breath as I caress you through and through. Unfurl into my embrace, and be fully present in the moments we share.
My expert hands will massage your tension away, and I'll leave you feeling happy and centered, ready to live life ever more fully.
My style flows effortlessly, releasing each one of your muscles. I strive to provide relaxing and comprehensive touch while titillating your senses.
Provide all screening info in initial contact to speed up the booking process. I require a minimum of 4+ hours for same day sessions. I reserve text & calling privileges for established clients. Please note that all new clients must be screened. This can be done painlessly through screening sites like P411, simple employment verification, or two references.
To be screened via employment verification please provide me with the following: a link to your public LinkedIn profile and/or a link to a professional business website where your name and contact information are shown. Once your contact form is received and if it looks like you are an intelligent and thoughtful human being, I will write back and request that one of or all of the following also be provided to me: a photograph of your driver's license with personal information covered or blurred out (such as your home address), a work ID with your picture, a photo of your business card, and/or an email sent to me from your business email.
The Look
Leela Sapphire is a 5'3", curvy, all natural, 29 year old caucasian woman with medium length blonde hair and blue eyes.
She is available for Men only.
Interests
WANDERER
Near or far, I adore being outside. I enjoy camping, hiking, and traveling to exotic gardens in faraway places. You'll often find me exploring new places all over the globe. When I'm home in Chicago, I satisfy my thirst for nature by tending to my house plants, and spending most of each summer in the wilderness. I always take the scenic route - whether I'm driving through the countryside, or getting to know a new friend. I live for adventure, and I know that some of the best adventures happen indoors.
CHEF
I grew up in the kitchen, tasting the rich Italian food of my heritage. I'm known for my marinara bolognese - a hearty red sauce with delicious morsels of sauteed meat. I love to travel, and I've tasted dishes from around the world. I love ramen, sushi, and anything savory. No sweets for me, except the occasional dark chocolate - I'm sweet enough on my own.
PHILOSOPHER
My curiosity has lead me into my profession, what excites you, and how we can make those a reality. I create a space where we can unwind and let our guards down, rediscovering our authentic selfs. I seek connection with each of my clients to deepen trust and authenticity. I want a session with me to embody the relaxation of time spent with an old friend.
Expectations
If you are a new friend, please introduce yourself via email. I screen my calls and am often unable to chat on the phone. My preferred method of communication is email. I reserve text & calling proviligages for established friends. Once you are fully screened we can communicate by text to finalize any details of our session.
It is an honor and privilege to spend time in my loving presence. As a low-volume Domina, I choose my clients carefully to ensure our compatibility. I value my health and wellbeing, as you should, so please do not see me if you are sick or have recently been sick.
If you are thirty minutes late I have the right to reschedule you, or charge you a late fee. No call no show appointments will only be rebooked with a deposit. Last minute cancelations will require a deposit before rebooking. I understand that life happens, but please respect my time.