+

Angelica Amore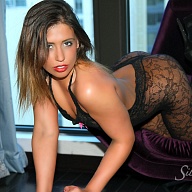 The Look
Angelica Amore is a 5'7", slender, all natural, 24 year old caucasian woman with shoulder length brunette hair and hazel eyes.
She is available for Men only.
Hey, I'm the famous provider, Angelica Amore. I'm well reviewed nation-wide with top marks and high recommendations all around. I am also an adult film star, and am not the common provider. Thus this is not the common provider's sales pitch, and what you are looking for in your provider may be quite specific; I can't possibly promise to match everyone's tastes. So this is more of an invitation to find out which of your desires I can satisfy. I am lucky to possess a deep, insatiable hunger for intimacy and my own natural desire to give pleasure to another. You can be confident in knowing that any fantasy you have we can explore together.
As time progresses, you'll find that whatever reason you want to come see me is soon accompanied by the surprise you'll feel when you realize my genuine enjoyment in being with you. I will be excited when I'm answering your call. You are not just a client, you are a human being and you will never be treated with anything less than respect, kindness, and a genuine interest in who you are.
I have found such a genuine happiness and passion in my life as a provider that I'm convinced I will be one for the rest of my life. I try to convey this in our time together as much as possible in hopes of creating a truly meaningful and satisfying experience, and I hope that it shows. Until we meet, happy hobbying :)
Interests
I am very much interested in matters of physics and the current-day theories of the micro-universe. I grew up near Fermi-lab located in Chicago's western suburbs, and being raised by doctors had a great influence in devolping my facination with the way the world works as well. I devoured the lectures my parents gave me about the inner workings and processes the human body and mind went through, how it affected our experience, and how we are able to remain concious through our choices in our experience. I am also very spiritually forward. I'm not in any way religious, as this is a very defined, structured way of thinking, and as with the newest discoveries, I have trancended the habits which enable the continuation of humanity's dysfunction; the ego. The new science/spirituality very closely resembles the fundamental truths of the physical world, and is instead a more clear and simple indication of the truth, which is felt or experienced through being. I can't tell you how or what it is, as its not something that can be thought through, explianed, or even comprehended by the mind; all I can do is influence your realization of it. I apply this in my daily experience and career by establishing a strong foundation of deep roots in the act of being present with my clients. At no time I am with a client am I stressed about other things. I am totally and completely there with you throughout our time together. If you actually took the time to read this, I am eager to hear your thoughts on it. Hope to meet you some day!
Expectations
RULES
Respect me at all times
If you are late for an appointment, you will still be expected to be out the door at end of your scheduled appointment.
If I am late, your appointment will be discounted accordingly.
If you cannot make your appointment, you must cancel within two hours of the scheduled appointment, or you must pay in full before you can schedule another. No excpetions.
SAFETY FIRST! ANY BRIBERY OR SUGGESTION TO DO OTHERWISE WILL RESULT IN IMMEDIATE TERMINATION OF APPOINTMENT AND BLACKLISTING FOR LIFE!
Please arrive well-groomed. Showers and fresh towels/toiletries will always be provided should they be needed.