+

Sensually Creative & Adventurous Bikini Competitor. Impeccable Reviews!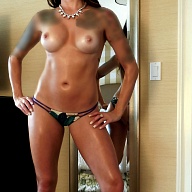 Bikini model body, passion & voracity. The sweet & adoring girlfriend who worships you in one breath, then restrains & teases you in the very next…
Available November 6th - 10th … November 27th - 30th
Photos showing more of my beautiful face NOW AVAILABLE on my website. ;)
Follow me on twitter to get a good dose of my personality + sexy selfies!
Hello, lovely gents! I'm Alyx: a part-time companion, bikini competitor, and precocious (as well as slightly nonconformist) private school girl at 32. :)
You will find that I am at once sweet and assertive, and I am best suited for a man who thinks outside the box. Nothing is more delightful to me than a perfectly balanced dance of power. I'm known to attack (with kisses) on sight, and you will fall in love with my devilishly playful grin.
And you will know me as the sweet & adoring girlfriend who worships you in one breath, then restrains & teases you in the very next, and I've been known make creative use of my lacquered nails & stilettos. ;)
The way in which we enjoy each others company will depend on your tastes and our exact chemistry. And if you are a strong, driven man who knows what he wants, and isn't afraid to take it … Well, you will find me to be a very willing partner as well.
Our delicious back & forth…
I find the intense build up … the dreamy blending of sensations and visuals … to be mouthwatering. Something that speaks to us at our core …
Socially, I am a bit of a chameleon.
My comfortable upbringing is at the core of my love of white collar men. I was surrounded by them in my formative years, and have chosen to surround myself with them as Alyx. I was privately educated, vacationed in Paris in my younger years, and have a full time creative career outside of this clandestine pursuit. I am, by all accounts, successful & well adjusted.
At the same time, when dressed in a scant little dress, you will find my upper arms adorned with feminine tattoos. Art has always spoken to me, and I've long harbored a flair for the theatrical. Add to that my fitness obsession, and I am part refined young professional, part Girl with the Dragon Tattoo, part strong bikini babet, and … well … 100% me.
I have intentionally crafted an unconventional & wholly fulfilling life for myself, and endeavor daily to feed both sides of who I am. And if you are a man who craves something equal parts exotic & refined … charming & brazen … sensual & strong … then you and I will be a perfect match.
kisses,
A :)
The Look
Alyx is a 5'8", slender, 32 year old caucasian woman with long auburn hair and blue eyes.
Interests
Fitness . Tech . Design . Nutrition
Expectations
P411 Members: Please send a direct booking request or message through the site!
Non-P411: Please email me directly with the following information:
your name as it appears on your drivers license
your city / state of residence
​
Review Site IDs (if applicable)
the names / website addresses of at least 2 reputable, currently active ladies who will vouch for you and with whom you have visited recently. (Women you have seen in the last 6 to 12 months.)
if you can think of any other information you might wish to provide to help establish your legitimacy & sanity, feel free to include it in your request :)
date & time of desired appointment
duration of desired appointment
incall, outcall or private travel engagement
Also, I promise that I will treat your privacy with the utmost care and discretion. I want us both to be safe and sound and protected. As soon as we get the logistics out of the way, we can move onto the fun part! :)
​
​
​
​