+

busty, mature brunette w/ sterling 8yr reputation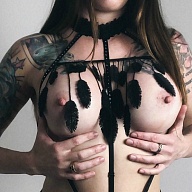 Take a moment to pursue the words contained within my website. They are my own, and they will enrapture …
A former boss identified my palpable confidence and natural beauty as a "Human Resources nightmare in the making".
Hello, stranger. I'm Alyx: former professional nerd, current professional babe. At 35, I've the face and physique of a 25 year old & the EQ of someone my age. (Or older.)
Ethical, adventurous and established, my sterling 8 year reputation is easily researchable thanks to the magic of Google.
As Alyx, I provide manna to the white collar and overworked in the form of highly impactful moments.
Each bite is an escape into a Bohemian world of pleasure where we can speak and explore freely and unabashedly. What we do together is soul sustaining.
I am sweet, but I also get a kick out of a good cat and mouse game… a flrtatious and tension buidling back-and-forth.
If you are the sort who enjoys sensually confident women who pursue whomever and whatever they want, then you will smell it on me. Even when I am entirely clothed and seated next to you at the bar top, you will sense it.
Everything we enjoy together will occur organically and will be the product of our specific chemistry.
My appetites are as vast and varied as yours, and you can tell me anything without fear of judgement. I will delight in ticking off your boxes one by one by one. Then I will tap into those you didn't even know existed. :)
Aesthetically:
long, beautiful brown hair with no extensions - able to style in any of the ways represented in my photos
able to shift aesthetics between "tattooed creative professional" and "beautifully polished" depending on whether or not I obscure my ink. (A skill which served me well in the startup world.)
5'8 and stunning 34DD - 26 - 36 proportions
Scottish, Irish & Cherokee
fair skinned, freckles, naturally pouty lips
I stay lean and strong with rigorous kettlebell, HIIT and aerobic training (and my resting metabolic rate is 2,300 calories a day - 50% higher than most women my age / height / weight range!)
I am best suited for the suit who who is drawn to dichotomy and find myself attracted to professionals who think outside the box. I am a sucker for that laid back brand of confidence and those who brim with a touch of existential angst.
Are you he?
If so, please visit my Twitter feed and lose yourself in the words on my website. They will draw you in … draw you one step closer…
xoxo
A
Rates begin at $600/1h in Chicago
FMTY rates begin at $3,000 for up to 4 hours (+ expenses)
All rates are listed on my website as well as screening requirements.
The Look
ALYX virtually is a 5'8", slender, 35 year old caucasian woman with long brunette hair and grey eyes.
She is available for Male, and Couples.
Presentation
Feminine
Interests
wriitng, functional kettle bell training, matcha tea, reading, growing my civi business, Salvador Dali, The Unbearable Lightness of Being, brutalist architecture
Expectations
Safety & security are paramount in this realm, and I value your discretion and privacy as much as I do my own.
All screening requirements and privacy measures are listed on my website.
Thank you!