+

Dominant fetishist! Sadistic emasculatrix goddess!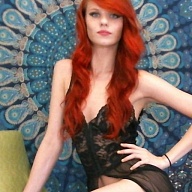 I am using the word "fetishist" because I want to communicate the fact that I would not be here if it weren't for my sexuality which centers around playing the dominant role.
I am kinky like you: my fetishes surround my desire to exploit and explore male vulnerability and indulge in male suffering, weakness, and deferential obedience. This has led me to develop and fine tune a diverse set of skills in the art of controlling and emasculating males.
To understand me as a human being, know that I am extremely high in Openness to Experience. That doesn't mean that I will do things I don't want to do: actually I have no problem saying no and my experiences as a camgirl have given me plenty of practice shutting down people who tried to push me.
The Look
Goddess Lucy is a 5'10", slender, all natural, 24 year old caucasian woman with long red hair and blue eyes.
Expectations
I expect you to make an effort to be clear in your communication. I can not overstate how important this is. Every sub is different and I wouldn't have it any other way.
Don't be shy about your limits. I think some subs think I will question them or disfavor or resent them because of their hard limits. ACTUALLY, I won't say a damn thing about your hard limits. ACTUALLY, I have an expansive imagination and I can easily play forever with the things that ARE right for you without ever having to think of things that are not.
I want information about what really turns you on besides "whatever YOU want Goddess." Yes, I love getting what I want but there are multitudes of things I enjoy Here are some reasons why: Have you ever heard of creative constraints? I want to know specifics because I want to create the experience you need and crave. I view BDSM as a connecting experience and one of the ways I connect with you is by creating an experience that fits BOTH of us, so arm me with an understanding of who you are as a sub.
What YOU should expect:
I am new to meeting in person but if you think I am going to be fooled or budge on my limits you are wasting both of our times.
You will be required to provide identification and you can trust that I will keep your info safe.
I may have someone with me to take the cash before our session.
My limits
I will be fully clothed.
Nothing that affects anyone who did not consent to being involved: not your unknowing gf, not an animal, none of that.