+

A modern classic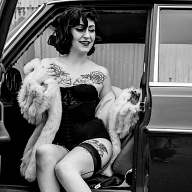 Tender, personal connection with corporeal rewards.
You're busy. I'm available.
You're tired of the same old thing. I'm young, beautiful, smart, spontaneous.
You don't want any strings. I'm the perfect confidant.
So confide in me.
What do you want? What do you crave?
How can I please you?
Stop waiting and live the life you want on your terms; with a classic inamorata: Frances Marie.
I'm a provider in the SF Bay Area that specializes in sensual BDSM, and domestics. My goal is to create interactions that foster intimacy, warmth, and passion between both parties. Who wants a partner that isn't enjoying themselves, too? We live in a modern world with modern expectations: let me provide you with the old-fashioned comfort a woman like me loves, while catering to your busy and contemporary life.
I am a college graduate with degrees in both the liberal arts and sciences, but don't let my nerdy side fool you, I still know how to relax and have a wild time. Whether you need a gal to go to go to a football game with, discuss literature with, or have an old school home cooked evening of pampering, I'm here to please you. Equal parts demure and playful, I look forward to meeting generous and well behaved friends.
Interests
I love cooking, reading science fiction, quality cocktails mixed with fine lingerie, hiking around the Bay Area, beach days with cold beer, dinner with good company, live music, and working out.
Expectations
Currently available evenings for outcall in four star or higher accommodations in the Bay Area and Sacramento with 24 hour notice, or less if we've met before.
Donations are based on the length of time you desire:
One hour—400
Two hours—700
The Perfect Date- 4hrs- (duration and price negotiable)—1000
I pre-screen all new friends.
This is to ensure safety and honesty in our interactions. That way we can have unbridled fun! My screening is quick (less than five minutes), discreet, and always confidential.
If we've never met but you'd like to:
Please copy, paste, and thoroughly fill out the following form into the body of an email.
Full Name (First, Middle, Last):
Age:
Occupation and Name of Employer:
Desired Date/Time/Location:
Special Interests:
Two provider references (handle, email, phone, and how they would remember you).
*Please note, if you do not have provider references, you MUST provide full name and employment info. Screening will be conducted professionally and discreetly, so we can both relax and have a good time!*
I do not discriminate based on age, ability, ethnicity, religion, gender identity, or class. I do not participate in misogynistic, racist, homophobic, or ablist play. Don't be a jerk and we will have a grand time! Feel free to email my assistant if you have any questions or requests.
I do not offer any illegal acts, therefore, there is no need to discuss any illegal activities in our dialogue. Any and all prohibited or inappropriate conversation will require immediate termination of contact and session privileges.
Contact Info
Contact
Information
+1 650-269-2683

Text only, please!