+

Your Redhead Kryptonite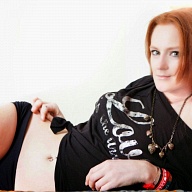 "I'm a simple soul with a very complex mind" - Stellar Madison
"Well behaved women rarely make history" - Marilyn Monroe
"Life ain't always beautiful, but it's a beautiful ride" - Gary Allan
The Look
Stellar Madison is a 5'8", slender, all natural, 29 year old caucasian woman with medium length red hair and green eyes.
She is available for Men only.
I'm a 100% Natural Redhead Florida Girl. I'm laid back, easy going, and friendly. The southern hospitality shows with my need to make people happy. I always make sure that we part company feeling much better than before we met.
I'm an outgoing, adventurous, and spontaneous girl who loves to have fun and experience new things. The other side of me loves to read and collect books. I'm a huge history nerd and I get incredibly giddy over learning about the past.
I'm a guy's girl. I love the outdoors and outdoor activities. I love to fish and hunt and go camping. I'm a die hard Cowboys fan (No matter how hard that might be sometimes). I don't like drama or gossip or games. I'm honest, straightforward, and low maintenance. I consider myself a girlie tomboy lol. I love hair and makeup but I hate shopping.
I'm a simple soul with a complex mind. I'm a free spirit, and free thinker. I'm unique. I can't be categorized or out in any kind of box. I'm open minded and non-judgemental. I'm one of a kind. A rare breed. I promise, you will never find another person like me.
Interests
I love music - From Petty to Spears to Aldean to Zombie to Minaj and Future I love it all
Concerts - I've seen 300+ bands live and plenty more I plan on seeing
Books - From Potter & Twilight to The Hunger Games. VC Andrews is my favorite author and I grew up on Blume. I can't stand Kindle's, I need to hold a book in my hands and put it to rest on it's proper shelf. Books should be owned to revisited, not viewed on a computer screen
Outdoor Activities - Fishing, Four Wheeling, Camping, Fishing. I enjoy being out in nature.
Writing - I've written short stories, poems, and journaled a lot growing up. I got into blogging when it came about and still write on my blog on my site about my life as a provider
Gambling - I used to frequent the local poker rooms but now I mostly stick to scratch offs (which I have no luck with) but I love Vegas and Roulette and Craps. I've dabbled in dogs and I play fantasy football every year. I don't go overboard with any of it. I'm smart about it so I never loose too much money lol
Expectations
I ask if you'd please visit my website before scheduling a visit with me. Most questions you have will be answered there. You'll learn all about me, and make sure I'm the type of provider that you are looking for.
I have no problem with you contacting me to ask your questions and book a visit with me personally. My site works great for some but not for others. I do my best to accommodate everyone :)
Once you know Stellar Madison is who you'd like to book a visit with, contact me by phone, text, e-mail, or the Booking Form on my website. Let me know how long of a visit you would like to do, what day and time, and any special requests or questions you may have. Please have some sort of reference ready to prove you're a real and safe person (A real phone number, social network page, provider referral, or a screen name from a trusted review site. - I only use this info to verify you are who you say you are, don't worry, I have no desire to stalk anyone lol
For most visits I only request at least a 15 minute heads up (If I'm available for sort notice) Any visits over 2 hours, please schedule at least 24 hours in advance.
***If you can't make our appointment, please let me know you are cancelling with as much notice as possible. If you cancel last minute or not show at all, I will put you on my block list and either not accept another booking or I will require a deposit in order to schedule another visit.***
When you arrive please have your donation ready and in an unsealed envelope and place it somewhere in plain view. There is no need to discuss the donation during our visit.
Once we both feel safe and comfortable, we can start our time together. During our visit my attention will be fully focused on making sure you enjoy yourself. Everyone's expierence is different and results will vary, but i guarantee i will do everything I can to make sure you leave happy and satisfied.
Contact Info
Contact
Information
Add Stellar Madison to...