+

A tantric butterfly. Raising vibrations with mystical touch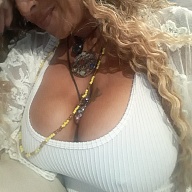 Make today Epic then let it go. Like Life
Highly important.
No hey hey …literacy is golden as is communication. By appt. Screening. Verification. Call.
Gentlemen only. Thank you so very much. Respect and bows to your path.
I welcome women, men and couples.
I travel due to care for eyes (neuroopthamologist) and to teach workshops on Tantra and Shamanism so feel free to keep up with any tour dates.
On that note; serious inquiries only and absolute gentlemen only desiring true tantra and a shamanic experience.
Now onto the fun part!
Most of us don't get the connection all humans should have and enjoy. Our lives are stressful and although instant gratification can give you a temporary fix the fullfilling healing and true connection is not there and only leaves you lacking, drained and searching. We live in our heads and disconnect from our bodies. We beome weak puppets to so many things we create, time/ cell phones, media but it doesn't have to be that way.
True Tantra is not about slow anything. There are many branches of tantra and 3 main roots don't fall for disinformation.
The tantric massage is about worshipping life, cultivating energy and sending it throughout the body. Using the life force energy for rejuvination, , increasing connection to self, owning the mind not being a slave to it, breathing and through the breath flowing and expanding ~ not panting and wasting energy,
I will guide you with tenderness and love, honoring the fact that you are Alive and here! Guiding you into a deeper sense of fulfillment, connection and happiness. From here healing may occur.
For me in tantric massage allows me to express my empathy, my passion and my sensitivity through my hands. Conscious sensuality is about presence and experiencing the other. Not missing the whole thing due to a busy mind thinking about everything BUT the experience.
My journeys are about I meeting you exactly where you are at on your moment in life without judgement, and I take you deeper and higher, gently and lovingly and with absolute acceptance of who you are
No performing or imitation, no limiting expectations.
Each journey is unique to each person's needs and wants: it can be playful and fun, as well as deep, inspiring and shamanic psychonaught trance advanced tantric alchemy.
Am very much into raising good energy and awareness about true taoist and Egyptian tantra as well as Hawaiian lomi lomi healing hands just not into low vibes, time wasters, low intellect or non golden rule followers. Aside from that I adore the sacred masculine energy and connections made. Soaked in good energy vibes.
Holiday specials include extra time for 2 hour journeys and more in my shamanic website if you wish to explore more.
Am open to Advanced Tantrics and advanced journeys but a call is a must for all journeys so we can discuss.
Be a good human.
And expand your perspective into limitless possibilities. True active zen.
Remember:
GENTLEMEN ONLY. I love connection and so am selective. Verification is critical, crucial and very important. Dislike putting up with or baby sitting people under the influence. Not paid enough in any job to do that. This is for gentlemen only, strictly and no exceptions. At all.
At all.
I can be a companion and make your evening a great experience and if there is no connection over the phone I won't lie to you or fake anything. I will just tell you that you are probably wasting your time. So won't treat you badly because I rather you have a great experience with proper provider.
Good vibes only. Open mind open heart
This little guru has piercings, ink and curves deal with it. Surrender Receive and Be Happy!
Much love
The Look
Thekalilotusexperience is a 5'6", slender, 38 year old latina / native american woman with long hair and hazel eyes.
She is available for Men, and Women.
Interests
I have had several art gallery presentations and ha b.c e two wonderful degrees I employ in my life practice for helping others obtain grants through grant writing and content writing.
I still love occasion
Yoga and chi gong nei gong tai chi are all active life practices of mine.
As a personal chef at times of course I love food. Mainly Farm to table. But I can wait till September and the farm.
I have music on 24/7 if alone.
And of course moving off grid I have done it before and is my main passion.
I do eco building, aquaponics, hydro, tilapia pond water to irrigation, under and above ground green houses and more. So great love for the land and our survival.
Dancing is a huge de stress and intellectual conversation from teslian coils to medicinal activism. Etc. Good living productive stuff.
Expectations
I value everyone's path and am pretty taoist compassionate in my life so how people are with me is huge I have an open mind and am nurturing however very much into setting boundaries, discussing likes, dislikes and valuing your expectations
I appreciate hearing the tone in a person's voice and feeling their vibe.
Making sure you have a great true different experience is my main goal.
Contact Info
Contact
Information
Add Thekalilotusexperience to...
your address book

(vcard)

your smartphone

(QR code)

Scan the following QR code with your smartphone to view or save Thekalilotusexperience's contact information: