+

Czarina Inamorata - Old world charm wrapped in a flirty, youthful package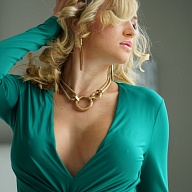 Those who have had the pleasure of a Russian woman's affections often revel in the gifts that our upbringing bestows upon the men in our lives. From a young age, we are taught to cultivate our beauty, social grace, and a variety of activities that make us well-rounded. In my case, years of instruction in swimming, gymnastics, tae kwon do, dancing and piano have naturally created the confidence, physical and mental fitness and appreciation for the arts and intellectual pursuits that form the basis of the woman I have become.
As a young, modern woman, I have a thirst for life, knowledge, success and experience. This is what led me to study both English and Chinese, brought me to the U.S., and drives my fascination with American men and culture. My traditional values allow me to be comfortable in my relationships, knowing that the man who is truly appreciative and deserving of my attention will find just as much pleasure in taking care of the lady who brings joy into his life.
The Look
Natasha Korkova is a 5'6" 23 year old caucasian woman with shoulder length blonde hair and green eyes.
She is available for Men only.
Interests
When I'm not busy doing all the things that women do to keep ourselves beautiful, I like to explore. Because I'm always open to expanding my horizons and discovering new people and ways of thinking, you'll often find me traveling, visiting museums, attending live performances, and enjoying amazing seafood and fun cocktails in fine restaurants. My ideal companion is a mature gentleman who shares my affinity for unforgettable experiences, feminine elegance, and an abundance of fun, smiles and laughter. If this describes you, please visit my website and contact me when you are ready to plan a delicious liason together.
Expectations
If you would like to get acquainted, please help me get to know you with a friendly introductory email expressing your preferences for the day, time, duration and location of our time together, taking into account that I always prefer to begin getting to know a new acquaintance in a public place. As you will note, I like to take my time to really connect and get to know a new suitor. Two hours hardly seems like enough time, but I understand that some gentlemen have very busy schedules and I appreciate the effort to make time for me. A more comfortable date would include conversation over dinner, along with plenty of alone time afterward.
Always a lady, I like to dress to impress and enjoy the attention garnered by my physique, but also make sure to be appropriate for the occasion. With this in mind, please let me know of any wardrobe preferences, too.
In order to further ensure my comfort and safety, please provide the information necessary for one of the following verification methods:
- The names, URL's and email addresses of 2-3 comparable companions who have had the pleasure of your company within the last 6 months.
- Your P411 or other verification site handle
-OR-
- Enough personal information to do a sufficient online query, such as:
Your first and last name
City and state of residence
A phone number registered to your name
A link to your professional website and/or LinkedIn profile
Anything else that you think might be helpful or relevant
I sincerely look forward to hearing from you and learning what kind of adventures you have in mind. Until then, I'll see you in your dreams!
Your Russian muse,
Natasha
Contact Info
Contact
Information
Add Natasha Korkova to...