+

A Dreamgirl just for you…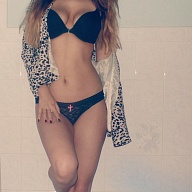 Because some opportunities only present themselves once in a lifetime…
The Look
Everroam is a 5'7", slender, all natural, 23 year old caucasian / latina woman with long auburn hair and hazel eyes.
She is available for Men only.
Hello sweetheart. Ive been waiting for you and i'm so glad you finally found me. I'm Everroam. A miami based, luxury companion. Full of passion and sensual energy, I consider myself the ultimate VIP experience. I cater to intelligent, discerning, well-mannered gentlemen who value quality over quantity anytime. Only men of this nature understand that time is too precious to be spent unwisely. As an elite courtesan who provides discreet companionship for those who appreciate the finer, rarer things in life, I aim to not only to please, but to meet and exceed your expectations. Share with me all your desires so that I may help you indulge in them and turn all those hidden fantasies into reality. Let me be your dream come true.
I believe confidence is a women's best accessory and I wear it well. Yet I remain true and humble to myself. I'm genuine in all my intentions and that's where my value as a VIP companion really shows. Beauty is pleasing to the eyes but a genuine character is even more pleasing to the soul.
Let me invigorate you, Fill all your senses, take you to a place you never knew existed.
Although our time together is only a temporary dream, the memories created will last a lifetime. I will never rush or force our time together as I enjoy a more natural approach to things. That way, we will be able to connect on a deeper level, both intellectually and physically.
I can be the girl next door whose young and innocent nature creates an oh-so alluring energy. Effortless beauty and a simple yet casual and delicate style complete my look. From the moment we meet, I will lavish you with my attention. I will spend every single moment devoting myself to you. My eagerness to make you happy will only add depth to our meeting. We will kiss with a passion reserved for teenagers and lose sight of everything around us. You are all i see. All I want. My genuine and pleasing attitude will immediately put you at ease and have you ready to enjoy the rest of our date.
Or We could make our date a little more risky by meeting at a bar pretending to be strangers. I'll tease and flirt relentlessly. We are role playing after all. Im always up to trying something new. Would you like me to bring my costumes, or perhaps something a little more… dominating?
I'll be here when you want me and gone when you don't. How could this get any better?
Interests

• 23 Years old
• 125 lbs
• 5'7- Who doesn't enjoy a nice pair of long legs?
• Brazilian American Beauty
• 34C-26-36
• Shoe size- Us 8
• Student/ Intern
• Fluent in Spanish & English
I'd like to share something with you before you read further on. I honestly and truly enjoy what I do. I do it out of pleasure rather than need. To me, It's like living out a fantasy every time I get to meet someone for a quick rendezvous… A fantasy in which we both get to escape the reality of the world around us and get the pleasure of just exploring.
Aside from focusing on my studies, most of my free time goes into traveling. I've back packed through a number of countries and hope to keep adding to the list. Care to join me?
For personal safety issues, I have recently had to change my name. If you know my previous persona, you are aware of the amount of outstanding reviews I have received and the wonder reputation the proceeds me. It has pained me so to have to leave that behind but like I said before, my safety was at stake. I ask that if you do recognize me, do not mention me by my previous name. Thank you so much for your understanding.
Expectations
Please understand that some screening is required and I only see clients that have atleast 2 recent (less than 6 months) references from established providers. Thank you in advanced.
Rates below are for Miami Outcalls Only. Incalls will require an extra fee of $200 OR a minimum of a 3 hour date.
DONATION- (Lite Fetish)
$300- Midday Tease/ 1 Hour
$450- A small glimpse / 1.5 Hours
$600- Just my cup of tea / 2 Hours
$800- A short Rendezvous/ 3 Hours
$1000- A quick bite and Desert/ 4 Hours
$1300- The blissful escape / 6 Hours
$2000- A day date/ 12 Hours
$3000- I'm yours if only for today/ 24 Hours
$500- For each fetish fantasy friendly hour.
Please note that my donation is non-negotiable. Placing it on the bathroom vanity is my preferred method of exchange. Please do not mention it at anytime during our days or I will be forced to discontinue our date.
As far as travel goes, I would be delighted to accompany you on a trip or meet you wherever you are. All trips must be for a minimum of a 6 hour date (although I will understand if you can't stay all 6 hours) + cost of roundtrip tickets to your city and back plus the cost of hotel accommodations depending on the individual situation.
If you have any questions, please visit my website or just email me at the email below.