+

Come discover the full measures of a woman's heart with a vivid imagination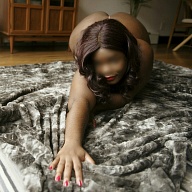 The pictures did not come close to capturing her sexiness and sensuality. When she smiled at me and gave me a hug, I considered melting right then and there.
A contagious laugh with an alluring smile is what draws you in. Meaningful and engaging conversations will put you in a trance, but the exploration of the mind and expansion of our horizons is a journey never to be missed.
SEE MY VERIFICATION INFO WITH THE LINK BELOW
My schedule is provided on link above.
PLEASE TEXT FIRST.
No app/internet numbers. Please send an email instead.
Hello there… I see that I've captured your eyes but are you ready for me to capture your soul? Don't worry; I'll let you have it back in 24 hours.
My name is Sophia, a name that you shall never forget. I am a 28-year old Caribbean woman with an aura that will forever linger in the back of your mind. Ultimately. I know why you are here but fundamentally… are you ready?
Yes ready for me. I know; I've put you on the spot. But this is a stimulus you have never experienced before. So when you are tired of going through the motions and ready to experience this dopamine drip get ready to have my name to roll off of your lips.
There are emotions that moves inside of you and urges you and that's by no mistake. The brain's reward system is a function to guarantee our survival. So the only right thing to do is let me help you tap into the ultimate potential of your Mesolithic pathway,
Whether you are looking for a simple yet exhilarating brief encounter between the business days, a dinner date that will make your stresses temporarily fade away or a weekend to escape life I am your ultimate wing woman.
You Can Find my verified profiles on various reputable sites, Please see the link above for info.
To make our experience happen please contact me with your:
Name
Age
Requested Day/Time & Which Session
Phone Number - Please, No Internet phone numbers.
Plymouth Meeting 9/26-27
Don't forget to join my VIP contact list on the link above to be personally reminded of my upcoming visit.
If you are in an area not listed. I'll get back to you once there's enough interest or schedule a personal multi hour date.
The Look
Sophia Laurent is a 5'3", bbw, 28 year old ebony woman with shoulder length black hair and black eyes.
She is available for Male only.
Expectations
It makes the world of a difference when you read a companion's website before contacting us. And trust me, we can always tell.
There is no such thing as being too clean, especially for the adventurous type.
Any inappropriate media sent without permission will greatly jeopardize our meet. Explicit conversations are ignored.
Please be respectful. Thank you