+

Your Luxury Partner in Crime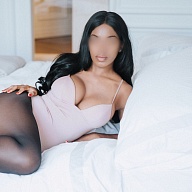 "The purpose of life is to live it, to taste experience to the utmost, to reach out eagerly and without fear for newer and richer experience."
- Eleanor Roosevelt
You're bustling through your busy life performing the role of the consummate professional or the creative seeking his muse. At the close of business & after a glass scotch, you're longing to free your true self or possibly discover something new. You want to be embraced by a woman that posses timeless class & decorum, but inside, you seek a personal Aphrodite that only comes out for you.
You deserve a connection along with the freedom of uncomplicated passion. It's a good thing you've stumbled upon me? Life is short, so why not spend it with someone that lets you have your cake and eat it too. I'm a firm believer that everything happens for a reason; the universe must've brought us together.
You're probably familiar with the categories beautiful women are often put in—trophy wife, model, the lady next door. And though they can be helpful, if you're looking for any of those titles, you're in the wrong place.
I'm far more than a category; I'm Selene, a witty southern belle by day, and sultry romantic by night that wears nothing but perfume to bed. I adore leisurely strolls in museums, brutal booty-lifting workouts, snagging the corner booth for luxurious- lingering dinners, getting lost in a new book & now ingenuously getting lost in you. As this introduction comes to a close, I want to thank you for taking the time to read about only a bit of what's to come but, what's the final punch line? I'll leave you with this.
Me (32DD-26-41) and Beyoncé (32C-26-39) have nearly the same measurements. So if you like Beyoncé, Michelin Feasts paired with inciting conversation shoot me an email.
The Look
Selene Kitt is a 5'6", curvy, 22 year old black woman with long black hair and brown eyes.
She is available for Men only.
Interests
AGE Twenty-Something
HEIGHT 5'6
DRESS SIZE 6 / Medium
TATTOOS None
SHOE SIZE 8 US
MEASUREMENTS 32DD - 24 - 39
ETHNICITY AFRICAN American with roots in Nigeria & Ireland
INTEREST Business, Art, Design, Self-Improvement, Philanthropy & Fashion
HOBBIES Pilates, Reading, Traveling & Fine Dining
SCENT Frederic Malle Portrait of a Lady
FILMS Gentlemen Prefer Blondes & Moonlight
BOOKS EGO Is the Enemy, Becoming & Invisible Man
DEMEANOR Endearingly cheeky, INFP & Gemini
Education Undergraduate Deans List Scholar
Expectations
60 MINUTES | Small Talk - 600
1.5 HOURS | Primer - 800 (Preferred Introduction) - Outcall Minimum
2 HOURS | Bring The Bubbly - 1000
Outings are required for consultations over 2hr
3 HOURS | Another Round - 1,300
4 HOURS | More Bubbly Please - 1,600 (Priority Introduction)
6 HOURS | C'est Si Bon - 2,200
14 HOURS | Sleepover - 3,500
Deposits are required for all appointments
60 MINUTES | In Date Extension - 500