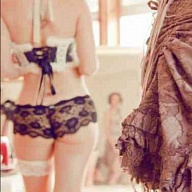 "Even After All this time
The Sun never says to the Earth,
"You owe me."
Look What happens
with a love like that,
It lights the whole sky.― Hafiz
I have been in the world of healing arts my entire life. I have been in the world of Tantra and sacred sensuality for over 5 years. My craft is my heart and my touch is pure love. I have mastered the art of blissfull relaxation and surrender to self while being able to release all tensions of life from the body/mind/soul. If you are familiar with TOB feel free to look into my reviews to gain a deeper perspective of my offerings and touch. I love what I do and I love sharing the medicine of the heart. My life is a journey of love, surrender, sensuality and grace. Feel like flying in clouds and letting go of lifes struggles for a moment in time? If yes, please do reach out.
The Look
Cassie Rose is a 5'4", slender, all natural, 27 year old caucasian woman with long brunette hair and hazel eyes.
She is available for Men, Women, and Couples.
Interests
My interests are:
Mostly anything out doors though I do not fancy the cold weather.
I enjoy travel, Local/Domenstic and International. One of my favorite things to do is jump in the car and drive with no layed out agenda or plan, just drive and see where the road takes me.
I love food and am a very healthy being but I have been known to eat some hefty pasta and indulge with some wine here and there.
Movies, Theater, really any kind of performance really takes my attention and soul. I Love live entertainment but I do also enjoy a good movie here and there.
I am also a Yoga instructor as well as a theraputic practitioner so anyway we can move the body with breath in an intentional setting for personal expansion is a huge pull for me! The body is electric and learning how to use it to our benefit for life improvement is what I do and LOVE.
Expectations
I expect clean, well kept hygiene from all my clients. I also expect clients to do their dilegence in research and reviewing. I take the time, so should you. I expect high qualtiy, good mannered, honorable men,women and couples to walk through my doors. Never ask questions that you know would be red flags, if you are unfamiliar with "red flag" questions, do your research. Most questions asked are already answered on my site. Never ask for more as "more" than what I offer is NEVER given. Come with peace in your heart and an open mind. Quiet, Polite, Generous, Kind, Giving, surrenedered and eager to receive, learn and grow.
Side note: I Love raw organic dark chocolates, Organic Red Wines and a good Organic Chocolate Stout ;). I also love any books or written reviews on Tantra, Sensuality, Sacred Sexuality and Yoga. Roses are of course the best flower to receive but I am open to your creativity and heart centered choice. <3