+

Strikingly beautiful athlete w/sterling reputation. Denver NOW & May-Aug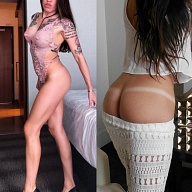 I love to travel, and unique FMTY options are listed on my site. | Non-Alyx pursuits will keep me in Colorado most of May - August. I look forward to cultivating a small circle of regular friends. :)
Mercurial gray eyes & an irrevrent sense of humor. Competitive athlete whose fit curves are augmented by a classic black dress & heels. A strikingly beautiful woman with a light heart who jokingly requests that, in light of current censorship trends, you refer to her as your "adult scrabble partner". Hello, soon-to-be friend. I'm Alyx …
And over the last eight years, I've had the honor of using my inherent ability to connect with others in order to bring peace, balance and elation to amazing human beings.
The symbiotic relationships forged in this realm are unlike any other. I thrive on cultivating inimitable moments with white collar men who think outside of boxes. Men for whom the conventional is boring, and who carry nonconformist flames inside besuited chests.
Our hours together will be marked by luxurious notes yet totally devoid of pretense. What we share will at once be an escape and refreshingly real. We will unwind at own pace … on our own terms … organically uncovering each others layers.
I am attracted to those who feel the weight of life and are brimming with (what to me is) an alluring amount of existential angst.
So if you feel something is missing, I want you to come to me.
Come to me when you are being driven by your lizard brain and are searching for the automic reset button. (Said button being a good game of scrabble, of course! *wink*)
Please take a moment to pursue my scrabble pun laden website as well as my witty banter filled Twitter account. Both will provide important insight into:
what we might enjoy together
the reputation I've built as a genuine, ethical and life loving craftswoman
and why I love being Alyx
I truly am the woman around whom you can be your most unabashed self, and I cannot wait to meet you.
Until then … A
AVAILABILITY:
usually Chicago based, but will be in Denver most of the spring & summer
all planned trips to Chicago, St. Louis & Nashville listed on my site
always available to fly to meet you - I love FMTY jaunts! (my 12 hour package has been very well received)
AESTHETICS
long light brown hair, all natural, no extensions
lightly tanned with fabulous tan lines
naturally pouty & full lips
5'8 with firm, muscular, lean curves
shoulders, thighs, glutes and legs belying athletic devotion
minimal makeup that simply serves to highlight my natural beauty - no foundation, contouring, fake brows, etc
two very realistic and moderately sized augmentations, no other cosmetic surgery
ink is able to be easily obscured under a blouse or dress in the interest of remaining situationally apropriate and discreet
The Look
Alyx in Denver is a 5'8", slender, 34 year old caucasian woman with long brunette hair and grey eyes.
She is available for Men, and Couples.
Interests
Want to get to know me quickly & deeply? The best way to do this is to visit me on Twitter & fully pursue my website. :)
Trust me … you will find what you seek including laudation by an assortment of scrabble partners. (Lest you want a better idea of everything I can bring to your life.)
Expectations
Safety & security are paramount in this realm, and I value your discretion and privacy as much as I do my own.
Please visit the Book page on my website for full verification requirements.
Thank you!