+

back in the BAY and ready to enjoy myself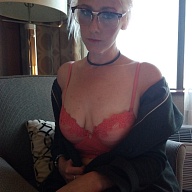 And the day came when the risk to remain tight in the bud was more painful than the risk it took to blossom.
Hey, please be respectful of my time
I'm Quincy but you can call me Quinn I'm 5'8 tall blonde with shoulder legnth hair and green eyes. I'm a very trustworthy, honest and kind hearted woman who really holds true to good old fashioned values. I enjoy reading, writting, and artys crafts were I can create with my own hands. I'm educated in Medical assistant and am very good at caring for people…it's a feild I was meant for. I'm a serious animal person and find myself staying in at home with my dog and cat more than going out on the town with friends. I'm really into fashion, clothes, shopping, and shoes but am always humble and down to earth and enjoy throwing on some jeans and tennis shoes and going camping and hiking for the weekend. I'm looking foward to meeting new friends to go on some adventures with in the city or out of town. Lets meet at the beach grab a glass of wine and listen to some live music. CHEERS to new friends …PS I have something you might like to know…but I will wait to tell you ;)
The Look
Quinn Snow is a 5'8", all natural, 28 year old caucasian woman with shoulder length blonde hair and green eyes.
She is available for Men only.
Interests
Did I mention shopping haha. Reading and writting in a cozy and quiet corner nook is always relaxing. Taking time to review your progress with prejects and personal goals is a healthy thing and making time for yourself is important. However, I can definitly appreciate the city and all of its life and culture. I love any and all music and you can usually find me singing along to whatever is playing…rocking out in the car or singing in the shower. I love to learn and look foward to learning new things every day. So lets get together and learn new things! languages?, foods?, music?, a new beach? whatever it may be I look foward to it.
Expectations
I look foward and hope to meet intelligent, kind, respectful, honest people who value good morals and act in ways they would like to be treated. A good laugh and joke is always a way to get me to be myself and always relaxes me and gets me smiling silly. I try to be respectful of everyones time as I hope for in return. One thing I alwys encourage others to do is think about aspects from someone elses shoes and so far its helped me become a very understanding and patient person.