+

Just A Normal Girl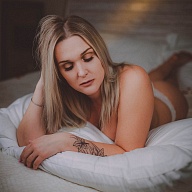 I'm basically just a normal girl!
The Look
Shay Silva is a 5'6", curvy, 27 year old caucasian woman with long blonde hair and blue eyes.
She is available for Men only.
PLEASE NOTE: In an attempt to find a happy medium between showing my face and keeping my privacy, in my listed photos, I'm averting my gaze. Check out my site for more pictures!
My pricing is a little different from most as it reflects my companionship style. I'm not looking to meet up for only an hour. I'm looking for connections. For companionship and friendship!
Weight: 150 Bra Size: 36DD Dress Size: 6 Shoe Size: 8.5 Shoe
• My name is Shay (My actual 'real life' nickname).
• I am 27 (No I am not 22 or 32, I don't lie about my age or weight).
• I am a true girl-next-door. My body type is a lot like Amy Schumer (blonde hair and all). I am 150 pounds and a size 6, curvy in all the right places (check out the 3rd picture on this listing as its a phone pic!).
• I don't look like a perfect put together 'high class escort'. I never cake on my makeup. I feel that less is more.
• I am not into fancy! If your looking for a date to the Opera, I am NOT your girl! I'd rather be drinking wine and enjoying good conversation…or even checking out a local pub and sharing a pizza.
• I am social, genuine and fun! You are guaranteed to be put at ease instantly! (I smile ALL the time, promise…my non smiley photos are just 'artsy').
• I prefer longer meetings and NEVER just meet for an hour. Its just not my style as I like to create a connection and have a genuine, fun time!
• I am told I am a complete sweetheart and can put even the most apprehensive man at ease! Don't let my girl next door vibe fool you, I am very adventurous and am not afraid to have fun and enjoy myself!
Shay x
Please Note:
• I am NOT hard drug friendly! I do NOT want to be around them AT ALL!
• I only meet for longer than an hour!
• I see a VERY few people each month pre-booking is encouraged! I only schedule 1 - 2 meeting a week!
Expectations
600 : a few hours together
1000 : an evening together