+

Your Ultimate Hipster Crush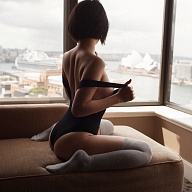 The Look
Sarah Miehn is a 5'3", slender, all natural, 27 year old asian woman with shoulder length black hair and black eyes.
My burning desire for air miles and the stir crazy personality will never be tamed.
I am an entrepreneur, writer, photographer, therapist, travel companion - Whatever you want to call me. I am versatile and friendly.
​​
I can be somewhat vulgar in private.
I am straightforward, but I try to be a gentlelady.
I am young and vibrant. I am simply curious and excited about life.I spend most of my time thinking/talking about sex and/or food.
​​
I am quirky and silly, sometimes.
I laugh very easily and often. You will see me smiling a lot looking at you."Why are you smiling now?",
and I might say, "Do you want me to frown instead?"
​
I am openminded.
I love both men and women in many different shapes and sizes.
I am grateful that people open up to me to share private moments with.I genuinely care about building physical and emotional relationships.
​​
It's just me.
I don't act a certain way just to please. I am comfortable being myself.I just want to know you the way you really are and have a good time.
​
Do you want to get to know me?