+

Sincere, Fun, & Friendly! Exclusive Luxury Companionship.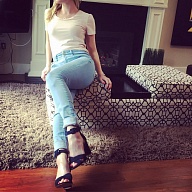 The Look
Rebecca Thomas is a 5'3", slender, 27 year old caucasian woman with long blonde hair and hazel eyes.
She is available for Men only.
I'm a multi-faceted young woman seeking a man who appreciates me not just for my physical beauty, but my intellect, humour, and unwavering commitment to self improvement as well. Every year I strive to be a better person than I was the year before.
You are delighted by my slender frame, full lips, and sparkling hazel eyes, but what really makes your heart soar is my warm laugh, my compassion, and my ability to see the good in a world riddled with conflict.
My part-time job in academia provides much-needed mental stimulation and puts my Master's degree to good use, while my dalliances in the demimonde grant me the freedom and flexibility I need to lead a full and charmed life. I want you to be a part of it.
There is a serenity that comes with slowing down the pace, calming down the mind, relaxing the body. Like me, you value a genuine human connection. Authenticity and honesty are not preferences but necessities. Life is too short for a shallow affair. What we both crave is an experience that nourishes the soul.
My enthusiasm for life inspires you to live in the moment and let your thoughts of the outside world slip away for a time. We delve deeper and deeper into each other with every encounter, until we swoon with appreciation for what we share.
The simple pleasures bring us immense joy when we make the time for them - and together, we do. Slicing open the first golden peach of the season for a homemade fruit platter. Poring over the Arts section of the New York Times to see what shows we should catch, what books we should read. We savour these moments.
You lead a full, stressful, and busy life, but you find respite in my arms when we pull the covers over our heads and put the demands of daily life on hold. We are safe and happy in our bedroom fortress. It doesn't get any better than this.
Email me today. Let's begin.
Yours very truly,
Rebecca
Interests
Science fiction, hiking, traveling, and star-gazing.