+

Imagine me, dripping in honey. Imagine you, wrapped up in my sweetness.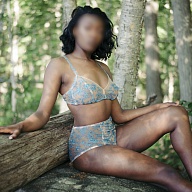 "With you, intimacy colours my voice.
even 'hello' sounds like 'come here'." -Warsan Shire
The Look
Nia Amari is a 5'9", slender, all natural, 21 year old black woman with medium length black hair and brown eyes.
She is available for Men, Women, Couples, and TV/TS.
"I am dripping melanin and honey. I am black without apology."
Aside from being an impassioned artist, a college athlete, and a classically trained musician; for much of my life I was the silent bookworm. My doe eyes opened wide as I delved into eclectic topics - from poetry to ecology, from political economy to sacred sexuality. I then moved far from the comforts of my sunny California upbringing to pursue my Ivy League education in a health field. This is where I developed my penchant for passion and began to devote myself to curating exceptional connections. I discovered the hidden gems of my body, my insatiable desire for exploration, and began blossoming into my free bohemian spirit.
I consider myself an elegant hedonist, always deeply immersed in that which I find most fulfilling. These days, I seek to indulge in simple pleasures. I can never miss out on a good foodie adventure – whether it's a 3-Michelin, a hole in the wall diner, or a friend's kitchen. I'm also known to be a jetsetter – every opportunity I get, I'm exploring a new destination. However, I'm also quite the introvert and savor a quiet moment with a mug of freshly steeped tea and a juicy book. Minimalist interior design, nature hikes, the performing arts, jazz & soul vinyl… these are just a few of my ultimate delights. I lust after the opportunity to step out of my intense daily life as a graduate student and into a sybaritic world of debauchery.
——
And you? Well, if you've stumbled upon me, that means you've been looking for something different - something genuine. You too would like to step out of your everyday routine and into a world of arduous sensuality. To be revitalized by a luscious, soft, and warm beauty. To be welcomed by long legs, golden brown skin… Do you dream about spending the evening out with an accomplished, sumptuous woman, exploring all of her idiosyncrasies? Do you wish to escape into a night of ardent romance with your opulent muse?
If so – you've found the right woman. I am all you want and more. I am invigorating, I am bold, I am luxury. I am lush like the rainforest, I am your desert oasis; I am the ocean, and you are learning to swim.
-Nia.
***
I am available for outcalls within SF, the East Bay, and the South Bay. I can also set up an incall for us at a luxury hotel in SF with advance notice.
Ready to meet me? Please fill out my booking form on my website or email me and provide:
~Full Legal Name
~Email
~Phone Number (I will not call or text you without permission)
~Employment verification, OR
~2 provider references, AND/OR
~Your P411 ID
If you have other circumstances in which you cannot provide references or verify employment, please still contact me with the other requested information and we can complete the screening by other means.
I await your correspondence.
Interests
Foodie adventures, travelling (Italy and the Netherlands are my current favorites!), minimalist design, never wearing a bra, yoga, spa days, and nice butts!
Follow me on twitter @NiaAmariSF to see more of my day-to-day adventures and what gets me excited.
Expectations
Consideration
$800 - 90 minutes (New client minimum)
$1200 - 2 hours (couples, fetish minimum)
$2000 - 4 hours
$3000 - up to 8 hours
*I accept cash, Bitcoin, and other discrete online payment methods - please inquire for more information!
*I would love to accommodate couples and fetish requests, these require a 2 hour minimum so that we can curate the perfect session!
*If you would like me to set up an incall for a date less than 4 hours, please add $200 to the consideration.
*I generally reserve my 1hr appointments to my established clients, as I do not feel it is enough time to truly curate a mindblowing experience with someone. However, if you're dying to meet me but just can't spare more time, please inquire for my 1hr rates.