+

Maya is in Chicago NOW! Booking today and tomorrow only!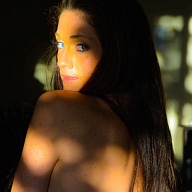 "Out beyond ideas of wrong doing and right doing there is a field. I will meet you there." ~Rumi
I Welcome ALL those who are seeking a higher level of awareness and profound pleasure!
What fantasies lie buried in your psyche?
What creations are you aching to see manifest in your life and the world?
Let me be your muse!
My name is Maya. My mission is one centered on Divine Love. With eyes of blue and a firm but supple yogini body, I live to please and to play! I am an experienced body worker, as well as an agile yogini. My practice is constantly evolving and growing as I explore new facets of yoga, massage, sound healing, and tantra.
I believe Tantric Practice can be fun and exhilariting! I will bring more awareness into my body and to yours, using my my skilled hands and keen intuition. During our time together there will be no distractions, no phones and definitely no Alternative Facts. ;) Just you and I, the sounds of our breath and voices, soft music, candles glowing, incense burning. A sanctuary of warmth and healing awaits you Here with me.
Great emphasis is placed on the breath throughout any length of session with me. It is foundational to life and how we are taKing in what is all around us. In yoga, we call this pranayama, or breath expansion. If you take a long, deep breath in as you read this right now you can feel how it calms you. Feel how by simply becoming more conscious of our breath for a moment we feel lighter and more calm; feel how it gently brings more space into the body. Breathing deeply and slowly, you will find your thoughts in turn will become quiet, your body softens, the time slows. More breath equals more presence, more presence equals greater pleasure, more pleasure leads to greater states of relaxation! You could think of time with me as an extended, hands-on guided meditation during which conscious, loving hands and soft serenades are your guides. I offer you a journey inward, to a place of deep stillness, and juicy surrender…will you join me?
It is with the most sincere pleasure that I offer my generous services and sensual enchantment to all who seek it with a genuine heart. Come purrrrr with me today!
In love and light,
Maya <3
The Look
Maya Azul is a 5'4", slender, all natural, 32 year old caucasian woman with long auburn hair and blue eyes.
She is available for Men, Women, Couples, and TV/TS.
Interests
I love learning and reading; exploring and seeing new things.
I love meeting new people! To me, meeting others in this intimate practice is also meeting and finding new parts of my myself!
Tantra, Yoga, Hiking, Dancing (well, improvisationally only and/or with a pole!)
Champagne (I Love Bubbles!) and Chocolate and fresh juices
YUMMMMMY!
I love being massaged! Two strong hands running up and down my spine melts me right down…
Singing, Sound Healing, Flowers, Dreaming, Travel, Being in Nature, Laughing, Cuddling, Playing
Aromatherapy, I love concocting new potions from my arsenal of essential oils
Expectations
CURRENTLY, I AM IN CHICAGO'S WEST LOOP!
THURS 2/2 - SUN 2/5
((I am currently available Sunday afternoons (12-5pm) and Tues-Thurs (12-8pm) in the Central Marin when I am in town. I travel monthy as well to other states and cities, i.e. Sacramento/Chicago.))
My website will list my travel dates as I know them.
www.maya-azul.com
I am available to answer inquiries at almost any time via email. I prefer initial contact to come in this form so please email me a little bit about yourself if we have not met yet.
Please be prepared to offer your name and information and/or the name and information of an established provider that you have seen.
If you are interested in a four-handed massage session I have a few select girlfriends I can invite in to be lovingly playful all together. Please inquire for further details and know that pre-booking is required for such offerings.
Extraordinary Massage and Tantric Play * For those yearning for a deeper connection with ((Shakti)) this session involves a divine dip into the body-based practices that ARE tantra. I create a Sacred Space for you to indulge yourself safely and soundly. Guided breath work, meditation, and sounds open us to the sweetest self awareness and increase our capacity to feel pleasure!
350/75 min
450/1.5hrs
550/2 hrs
750/3 hours