+

The Brunette Vixen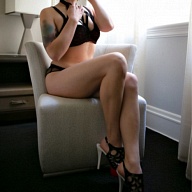 "One day your life is going to flash in front of your eyes. Make sure it's worth watching"-Gerard Way
When I greet you, you'll be stunned by the grin that unfolds before you. It is warm and revitalizing, sparkling through the fog of the day. You can't help but to smile back. Your shoulders relax, you let go and we wander into daydreams of your youth.
You can now take in who is before you…
As we speak, you catch the way my eyebrow quirks up, interested. You notice the gentle slope to the tip of my nose, centered above my plush pout. Your eyes trail down over my delicate, perfectly balanced collar bones, my soft but strong curves, flaring in at my waist and filling out again, placing full hips and a soft round ass atop strong, slender legs that are seemingly endless. Finally, you see that my arches are perfect, tailored to the high heels on my feet, and each carefully painted toe is visible. I smile once again. You are startled from your train of thought and as you gaze openly into my deep brown eyes, I move closer to you.
I am interesting in gently, persistently, innocently unravelling the exterior you present to the world. I have a delightful sense of humor about me, nothing is ever too serious, but I take everything seriously. My softness and sweetness will coax you out causing you will to lay your burdens at my feet. I want to see who exists beneath your surface, I wish to envoke your most primordial sense of being, all with a dash of sensuous fun.
My love for variety does not end with my preferences. Couples, women, men, as well as all ethnicities, gender identities, are my preffered dates. Those whose proclivities lie in the fetish or kink realm are warmly welcomed. If you are interested in this kind of date, please make note of this before we meet so that we can make any special arrangments required beforehand.
The Look
Isabelle Scott is a 5'8" 24 year old caucasian woman with shoulder length brunette hair and brown eyes.
She is available for Male, Female, Couples, and Trans.
Interests
I adore performances of all kinds. Take me to the ballet, symphony, a fashion show, or the newest art exhibit that you're into. I find opulance and extravagance to be aesthetically appealing. Tell me about the best show you went to or your favorite record, and you'll find that I'm well-versed in the genres that defined your life.
Fetish, kink, and BDSM is also a true interest of mine. You can find me in a coffee shop, peering out at people from behind a kinky book, wondering who everyone is under their business attire or day-to-day wear.
For those who like to spoil their lady, I always delight in any gift, and appreciate them because they serve as a momento of our time together. Fresh flowers, dairy-free chocolate, or gourmet coffee beans will bring a smile to my face. I can't resist lingirie, soft and dreamy, pin-up, and vampy. Honey Birdette, Playful Promises and What Katie Did are top three. I also have an Amazon wish list if you would like your gift to feel a little more personal.
Expectations
In your email, please include a polite message with your name, age, hobbies or interests, your idea of our first date, and if you are requesting an incall or outcall.
I do verify before dates, please inquire about how to be verified when you send your introduction email.
Understand that discretion and privacy are absolutely paramount to both you and I. I'll never share your details or the details of our time together and expect you to do the same.
Donations for incall:
Sweet beginnings: 1 hr: $600
A formal introduction: 2 hrs: $1,100
Happy Hour: 3 hrs: $1,500
Dinner Date: 4hrs: $2,200
(+$100 for outcall)
If we are meeting for the first time, please reach out at least 48 hours in advance of your ideal day to meet.