+

Transformational BDSM, Massage, and Fantasy Exploration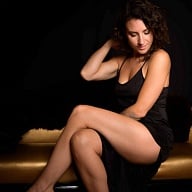 Presence. Pleasure. Pure Passionate Poetry.
Delight in The Sacred and The Profane
I delight in being your muse…Your guide… Your reverent and relentless dominator… Inviting you to be the most vital version of yourself.
I revel in guiding us through sensuous, embodied, soulful exploration to discover just what kind of creature you are.
I approach our sessions first and foremost as a pleasure-oriented artist.
I invite you to be the canvas to my professional, provocative painter.
With the artful container as a foundation, I blend a degree in Psychology, a background in Thai bodywork, movement arts and somatic practices, and my work as a Transformational BDSM practitioner to craft uniquely creative, holistic sessions that invite you into deeper body awareness, sensation, and real connection.
* Do you get the sense that there is more of you waiting to be discovered?
* Are you certain that it's possible to feel more alive than you're currently feeling?
* Are you looking for someone who not only enjoys the same activities as you, but is able to build on those activities in a way that surprises and delights you?
* Are you excited to let yourself be enjoyed for exactly who you are and what you like?
* Are you longing for deeper connection and a sense of belonging as the 3rot1c being that you are?
Benefits of our time together:
* In addition to enjoying the simple pleasures of sweet, sensuous, kinky exploration, this relational work will support you to let go of limiting beliefs, build healthy self esteem and access your personal power through an authentic and relational exploration of life force energy.
* Benefits are enhanced capacity for pleasurable sensation, deeper self understanding, radical self acceptance, transformation of shame into connection, and reclamation of your voice and power.
* Sessions with me will amplify your capacity to be more confidently, boldly and fully yourself in your relationships, your career, and your community.
The Look
Irina Nyx is a 5'3", athletic, 37 year old caucasian woman with shoulder length brunette hair and hazel eyes.
She is available for Male, Female, Couples, and Trans.
Interests
I am a sapiosexual and I love creative interaction during sessions. Bring your curiousity and playfulness!
I love thoughtful notes, unscented beeswax candles, and high quality organic chocolate. If you would like to send a gift card, I appreciate gift cards to REI, Mr. S Leather, Free People, and Agent Provocateur.
I love when my clients are not shy about using "yellow." I am interested in a mutually consensual and pleasurable session.
Activity Interests Include but are not limited to:
Breathwork
Massage and Energy work
Percussion
Bondage
Foot worship
Sensory Deprivation
Delectable Cuisine
Dominance and Submission
T & D
Kinky Consent Training
Confession and Atonement
The Psychology of Power
The Power of Harnessing Life Force Energy
Ritual
Archetypal Exploration
Human Canvas
Private Dance
Waking Dreamwork
Creative Role Plays
Impeccable Mind F*cking
* I delight in creative collaboration. If you have an interest not listed here, respectfully ask. Hope for yes, Respect No.
Expectations
- Text or email me to express your interest in a session using the subject line: Austin session request. I will send more information about session types via email, after which we will have a brief phone conversation prior to securing an appointment time.
- Respect.
- Consent and/or a humble willingness to learn (I have lots of fun ways to teach the standards of consent that I expect).
- That you will arrive to sessions freshly showered and in clean clothes.
- Sessions begin at $300 per hour. Rates are non-negotiable. Deposits required for new clients.
- Deposits are non-refundable for no shows, and a full session fee is required before being eligible for a session in the future.
- Rescheduling may be possible with at least 24 hours notice.