+

True Tantra with a Playful, Passionate, Powerful Priestess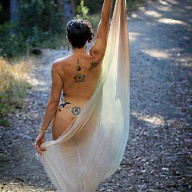 Everyone has been made for some particular work, and the desire for that work has been put in every heart.
~ Rumi

The Look
Dakini Devi is a 5'8", curvy, all natural, 35 year old caucasian woman with short brunette hair and green eyes.
She is available for Men, Women, and Couples.
It's the language of touch that inspires me, the power of presence that moves me, the aliveness of Eros that drives me, and all of that is what has led me here so that I may share with you, dear seeker.
I followed a path full of both straightaways and curves, earning my degree from a top tier university then trading in law school to work overseas for a non-profit. Back stateside after a couple of years living in and exploring foreign lands, I built a very successful corporate career and on the side continued to feed my hunger for spiritual and sensual fulfillment in my personal seeking. Then the time came when I answered the call of my heart and took off to travel again, this time leaving the trappings of my old life behind as I fully immersed myself in a series of tantric initiations. The journey of weaving polarities, of exploring the intersection of the sacred and the profane, was what I knew I was here to do. Breath by breath, step by step, I crafted a new life for myself, one that I truly love, centered around my passions.
The interplay of embodiment, breath and our divine Eros is endlessly fascinating and enticing to me. With all that I've studied and practiced, I consider myself a professional sensualist, and it is my sincere joy and total delight to share these things I'm passionate about- and deep reverence and presence - with you!
When first we connect, you will know that you're in expert hands by my skillful ability to put people at ease and create an environment that feels as relaxed and safe as it does stimulating and sensuous. My depth of knowledge in the realms of intimacy and sacred sensuality is vast, with extensive study of both classical and modern tantric lineages and a solid foundation as a relationship coach to support our journey. And my attention to detail means that your complete comfort and expansion will be attended to with exquisite care.
With years of experience creating sacred space and guiding seekers deeper into their bodies, breath and hearts, I have come to truly revere the profound simplicity of intimate connection. All of us, no matter what we believe we want from any given experience, deeply desire connection. To truly be seen by another, to have our own beauty and value reflected back to us through their eyes, their touch, their words, this is the stuff of life. And this is what I offer, dear one: The profound simplicty of true connection. I offer you the chance to be seen, all of you, shadow and light, the parts you show to the world and those you hide away, are ALL welcome and wanted here.
Sessions are designed with your unique preferences in mind as once in my temple, YOU become the god[ess] to be worshipped. Whether your intention is to deeply relax and expand your capacity to receive, to experience a tantric ritual that will open your heart and enliven all your senses or to explore the realms of sensation play and power dynamics, I am here to support whatever you calling more enjoyment into your life.
Expectations
I offer sessions for men, women & couples that may include:
~ expanding awareness & prolonging enjoyment
~ sensation play and surrender
~ healing trauma in the body
~ improving communication & intimacy in your relationships.
Visit dakini-devi.com/offerings for more details.
We meet in a tastefully appointed space with your complete comfort in mind.
Sessions are available for anywhere from 1-3 hours, during the hours of 10am – 10pm. Advanced scheduling is almost always necessary when visiting with me in CA.
For first time sessions, you'll begin by completing a brief intake form that we'll follow with a phone call before meeting to assess your desires and needs, and ensure our compatibility.
I welcome tributes for my time. Depending upon the elements we incorporate, the following range applies:
1 hr: $250-$400
1.5hrs: $400-$550
2 hrs: $550-$700
2.5 hrs: $700-$850
3hrs: $850-$1000
COMMUNICATION:
Email and phone communication are required for new clients. Texting is reserved for logistical questions and updates once your session has been confirmed and for existing clientele.
Be prepared to provide your full contact information for verification.
I appreciate you matching my professionalism, respect and integrity in all communications. Any requests for illegal services will not be responded to.
Should you need to cancel or reschedule an appointment, please provide as much advanced notice as possible. This is a professional service and should be treated accordingly. If you cancel at the last minute or fail to show up for a scheduled appointment, you may forfeit the chance to meet with me in the future and will be reported to the industry blacklists. In short, please be considerate!
I look forward to sharing sacred space with you!