+

Curvy Cure for the Common Day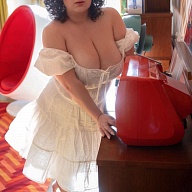 Experience Life Less Ordinary
You're a busy person your time valuable
Constantly on the move, your mind moving faster than a swimsuit model on a peloton, a checklist of things to get done, plane and train schedules, upcoming meetings- both Zoom and in person-
All of these things distract you from the truth at hand.
You still want something else, you crave something else to fill your time with
I know this feeling well.
However I find it imperative (perhaps due to my yogic leanings) to be fully present with pleasure.
This is what you are longing for.
Has your routine day ever been truly made by meeting an impish girl with curls and curves?
Have you ever found the cure to the common day?
Have you ever held the quaking softness of someone with a hedonistic heart and shelves full of books?
Are you looking for something a bit off the beaten path, something that ignites your spontaneity inside you ?
I see you. I see you how you truly are.
Allow yourself the beautiful happenstance of chance meetings.
Of meeting a sparking raconteuse, with dark soft eyes, creamy soft thighs, and is stacked like the Bodleian.
Let's riff about mycology or metaphysics, unless perhaps classic literature is more your style…
My vast knowledge is not only from name droppable institutions but also from hiking solo for weeks at a time, meditation retreats, voraciously reading and my nasty podcast habit.
A soft embrace and a warm kiss from a cerebral and sensual creature that welcomes you home and right into your and our next adventure awaits you.
So…
Let's play hooky from the ordinary world and see what new mythology we can co-create in our own pocket universe.
I offer a wide range of services- please check my website.
The Look
Clara Turing is a 5'1", curvy, 30 year old caucasian woman with shoulder length brunette hair and brown eyes.
She is available for Male, Female, and Couples.
Interests
I am deeply interested in the natural world, science fiction, history and esoteric knowledge.
I am a hedonstic pleasure bunny for all things- and find slow dining, dancing and kissing to be divine.