+

Young bay area beauty | looking for deep intellectual conversation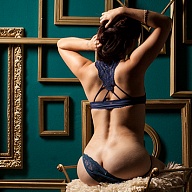 The Look
Aria Rinehart is a 5'1", all natural, 21 year old caucasian / asian woman with medium length brunette hair and hazel eyes.
She is available for Men only.
I want to provide you a special, unforgettable experience. Whether it's going dancing, chatting about our lives over coffee, or spending valuable time travelling together, I want to be there for you.
Want to get to know me? I'm a university student on leave to learn more about the real world. I love to learn and I love to explore. I really enjoy cuddling, massaging, and talking to my partners (I'm poly!). Honesty is important to me. When we look into each other's eyes, I want our connection to be as real as can be. I'll be honest with you now: I want to get to know you!
Interests
I'm a hobby painter. I love dogs. I love nature. I want to help people get over the blocks in their minds that hold them back. I've done aerial silks in the past and sometimes when I watch a good performance I cry.
I went to an ivy league school learning computer science and dropped out after I realized how soul-crushing school and most jobs are for me. My dream is to earn enough money to buy a small log cabin in the woods somewhere.
A couple things I fancy: dark chocolate, roses, piano music, giving/receiving massages, serotonin, great aesthetics
Expectations
You can meet me almost anywhere in the Bay Area! I will come to you at your hotel, house, or hideaway. I'm looking forward to exploring more of my home.
Timing: I will rarely be able to make same-day appointments. If you book in advance and need to cancel, this is okay! But please don't make this a pattern.
Cancellations: We're busy, I understand. There's no penalty for cancelling as long as you cancel more than 24 hours in advance. Otherwise, there is a 50% cancellation fee best transferred using Amazon giftcards.
Communication: Email is my favorite means of communicating. I'll use my phone for coordinating as we meet.
Donations are not a fee or compensation.
At the beginning of our date, please have the donation ready in an envelope to place on a table nearby or in my purse. Then, please excuse yourself to the washroom for a few minutes. Please don't verbally mention the donation.
We'll protect each other's privacy. Please don't take photos or video unless you ask first! Likewise, I will never reveal your private information without your permission.
References: If you'd like me to provide a recommendation, please send me an email letting me know! I will be happy to refer you to other companions if we've met in the past year.