+

Stop daydreaming, Mila Sky can make your dreams come true. Come&see!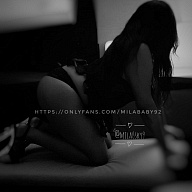 Elegance is not being noticed, it's about being remembered.
A woman with class is timeless!
Your first inquire is most likely, "how do I contact you?" The answer is…The link to my personal website at the bottom of this page. Please do not call me. I am too busy to take calls and you will only get my voicemail. (You can also email me, just include your verification information milamakesyousime@protonmail.com. I am giving you all the secrets right here. You just have to keep reading)
What would I be able to tell you about me?… I am an alluring exocit mix beyond all your expectations, yet This gathering is so stuffy. I would much rather disclose to you more face to face, or even better… demonstrate to you. Be that as it may, since you're not there yet, let me disclose to you this much until we can be more interpersonal…
If you fancy what my preferred anything is, the appropriate response is straightforward and consistently the equivalent… the FINER THINGS IN LIFE! Do I deserve any less? My closet has a developing gathering of extravagant iteams and my chiffarobe stores the hearts and wants of my suitors.
You might ask yourself, "what is the path to this flawless ladies' heart? She has such a significant number of suitors… How might I be able to perhaps separate myself from the others. It is basic extremely… The mystery route to my heart is through a booking email/text, including your screening data. Furthermore, for you overachievers, that truly aim to intrigue, send me a propelled booking email/text, see what additional pats on the head that gets you! Just along these lines can we ever get to know one another.
My chiffarobe isn't full yet, and I am intending to take a little bit of your heart and your wishes with me, yet just in the event that you want me as well. Furthermore, trust me, you are going to want me to.
The Look
Mila Sky is a 5'7", curvy, 27 year old ebony woman with long black hair and brown eyes.
She is available for Male only.
Interests
Just to name a few or my many interests travel, Art, Museums, hair, nails, reading, wine tasting, boating, fashion, fine dining, music, architecture, beach, finance, cars, real estate, business, poetry and many others.
Expectations
Similarly as you have expectations of me, I additionally have expectations of you. If it's not too much trouble regard these essential wishes… they Are non-negotiable.
1. Screening is of every single new acquaintances. On the off chance that you are awkward with giving ALL screening data mentioned, at that point there will be an additional 200 fee to avoid this process. I will request to see your Drivers permit the day of gathering, and name must match what you accommodate screening. I don't hold your data. Keeping up your privacy is of most extreme significance to me. For the good of both of our safety, I do confirm the data submitted so please make sure to twofold check your reactions.
2. My companionship donation is non-negotiable. Donation is for my time and providing service of companionship only.
3. I am accessible to make a trip to your mentioned city and travel expenses are determined by distance. On the off chance that you live in excess of 30 miles outside of my location, all accommodation& travel fees must be covered in advance along with a 25% deposit
4. Cancellation Fee will be charged for cancellation with under 36 hours notice for the inconvenience.