+

Australian Escort - Phoenix Chase - Visiting USA Nov/Dec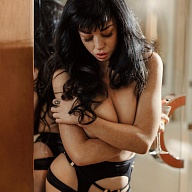 I've always been an 'unusual' girl. The type to be hyper-aware of my own nature, fully confident in my body, my desires and the urges I have to explore them both. I'm also very inquisitive when it comes to other people and human nature, so luckily for me I have found an outlet that fulfills all of these interests and therefore that is precisely why you have stumbled across my profile.
You can call me Phoenix… But it's Phoenix Chase in full. I'm a 30 year old Australian with a razor sharp wit and cheeky demeanor. Physically, you can get a rather complete idea from my photographs but for the sake of painting the picture in words, I have luscious, long raven locks of hair; a complete contrast to my sun-kissed freckled skin. Big doe eyes that are piercing shades of emerald green and perfectly paired with my full pouty lips. I might look angelic but I have definitely got a twinkle in my eyes that indicates a devilish side. I come with a sense of humour that's quite a dark type of comedy, it's dry style at times and you can blame the British side of me for that. Perhaps I'm a little too much tits and sass for one package…
I have delightfully long legs, met with a curvy yet slim hourglass figure with skin so soft to the touch.
I have some small delicate tattoos and piercings that add to my individual style. Being from Melbourne and London, it should come as no surprise that fashion is of utmost importance to me, that I like to wear a lot of black and can be particularly fond of a bit of leather. I am always immaculately groomed from head to toe and very much fashion-forward.
I have been travelling the world both for business and pleasure for many years now. My travels have made me into quite a worldly soul and if I dare say so myself, an incredibly interesting conversationalist. I pride myself on being educated yet down to earth and therefore I can adapt to any situation. So should you wish to spend time with me - I'm your girl. I can blend in and enjoy all scenarios from corporate events to video game arcades.
Your time spent with me is about your complete pleasure and enjoyment however I have learnt that for you to be blown away, we both need to be lost in the moment, savouring the time spent together. Because of this belief, I select my clients just as much as they select me. I don't work back to back and I don't see just anybody, high volume for me is of no interest. Quality over quantity. In keeping to this method, I know I can continue loving what I do and call 'work' and I can take pride in knowing that this allows me to maintain the highest quality of encounters. Our time together will linger on your mind far longer than the duration of our rendezvous itself.
You will notice I have been reviewed many times over by satisfied clients from all across the world (Australian review sites, can provide links). However, I do not endorse reviews as I find the time spent with each other varies so vastly from person to person and should remain private, but I do invite you to explore these as sometimes it can help you to verify my legitimate nature and proves that I am an independent escort with no agency affiliation and that I am 100% who you see in my photos and who is writing to you now. Again though, please refer to my Twitter account which has been established over 4 years now and has approximately 13,000 genuine followers.
Please be a gentleman at all times and in return I can assure you, you will be treated like a king.
Thank you for taking your time to get to know more about me, I hope it has enticed you and that you will be in contact with me about getting to know me even better, in the flesh.
Looking forward to hearing from you.
Kisses
Phoenix xxx
The Look
Phoenix Chase is a 5'7" 30 year old caucasian woman with long brunette hair and green eyes.
She is available for Men, and Couples.
Expectations
Please read my bio, visit my website, get to know more about me before contacting.
You will find that I require screening and potentially deposits to secure our date.
I do expect that any contact you make to me to be of a courteous, professional manner in that you detail as you can do regarding what you wish to arrange with me. Time wasters, rude or uncouth communication with me is ignored completely and numbers are blocked without hesitation.