+

Erudite Inked Companion | LA Based | Upcoming Trips to NYC & DC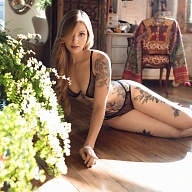 Current Travel Plans
DC 10/13-15
NYC 10/15-17
Boston 11/10-12
NYC 11/12-14
Find me in LA the rest of the time, or fly me to you. I promise I don't snore, and I have the cutest bedhead.
Hello, Lovely!
Something brought you here. I could conjecture endlessly about what precisely that might be, but that might make for better dinner conversation down the road. For now, let's assume you're wondering what kind of woman you've stumbled upon. My personality is at once playful, warm, quirky, sweet, and down-to-earth. At my core, I'm enthralled with the world and just about everything in it. My unquenchable curiosity makes me want to discover what makes you tick, if you're open enough to let me in.
Honestly, I'd love nothing more than to get to know you and all of your idiosyncrasies. Perhaps even more honestly, I want you to wander out of our time together with a bounce in your step and a mind flooded with memories that you'll replay until we meet again. I thrive on opportunities to skip past the superficiality of every day exchanges and go straight to the juicy stuff the genuineness that we tend to hold back from in polite company.
You can find an abundance of recent, accurate photos of me in numerous pockets of the Internet. I'm 5'7" with a slender frame, long legs, and feminine curves that fit perfectly in your hands. My natural blonde hair cascades down past my waist, and my large green eyes sparkle with each effervescent smile. I wear very little makeup and tend to dress with alluring femininity and a style that's uniquely my own. I hit the gym regularly, adding evident tone to my physique. My fair skin is adorned with black-and-gray artwork nature motifs that flow with my curves. See more of my modeling work on Instagram, Twitter, and Website.
Interested? Be sure to review the information on my website carefully before you reach out. Sending a nice introduction goes a long way.
XO –
Penelope Archer
P.S. Do you ever wish you had something visual to remember an exhilarating experience by? Ask me about sessions with photo/video!
The Look
Penny Archer is a 5'7", slender, 30 year old caucasian woman with long blonde hair and green eyes.
She is available for Male, Female, Couples, and Trans.
Interests
Dystopian sci fi, weird art, vegan donuts, cooking, live music, snapping cute pics, wandering in nature, camping (if you whisk me off to sleep under the stars, I'll adore you forever), Pilates, Danish mid century furniture, houseplants, video games, and cats!
Expectations
Be sure to review the details on my website before reaching out. Screening is required, so be sure to include the pertinent information.
For screening, please submit at least one of the following, in order of preference:
• References from two providers that you've met recently please include an email address and website or social media link for each
• A link to somewhere verifiable I can find you online, such as a company website, that includes a photo from which I could easily recognize you in person
• A blank email from a verifiable work or school account sent to an unlisted email address of mine (inquire)
• A picture of your ID