+

… ALL NATURAL … LOVE … COME EXPERIENCE HEAVEN …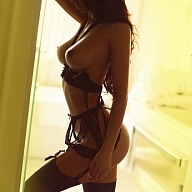 LOVE IS IN THE AIR… PASSIONATE AND FUN
The Look
Natalie Elmore is a 5'10", all natural, 25 year old caucasian woman with long brunette hair and green eyes.
She is available for Men only.
Thank you for taking the time to learn a little more about me. I'm Natalie Elmore, professional lingerie and fashion model, writer, artist and young business woman. I am EURASIAN and have several exotic ethnic origins. Located near Beverly Hills area. I have a very active lifestyle considering my obsession with several business projects that are related to my hobbies. Therefore, this way of dating I find as the most efficient and rewarding for both me and my potential date. I am a natural giver, pleaser and loving young woman who admires, loves and adores my MAN. I want to worship, enjoy, appreciate him.
Getting degrees from top-tier schools, living in different countries, reading, learning, working in different industries, being lucky to have highly intelligent friends, teachers, mentors, all of that formed my comprehensive worldview. I have been sculpturing the perfect woman - my body, mind and soul - for years. I just love the combination of wildness, intelligence, purity, warmth and desirable beauty that I can share with the right man who deserves all of that.
Are you a powerful, experienced gentleman who appreciates the finer things in life? I want to surround myself with affluent and intelligent counterparts to enrich my life and allow us to create meaningful and romantic relationships.
Interests
LEARNING, EDUCATION
HEALTH
FREEDOM, TRAVEL
CONNECTION, PASSION, LOVE, NURTURE
EARTH, ENVIRONMENT
Expectations
DATING FOR ME IS A PROCESS OF SHARING, GIVING, PERSONAL AND INTELLECTUAL GROWTH, EXPRESSING LOVE AND PASSION, LIVING AND BEING IN PRESENT MOMENT, ADMIRING OF AND INSPIRING MY PARTNER
I DATE ONLY IF YOU ARE MY TYPE - GIVER, AMBITIOUS, INTELLECTUAL or/and SPIRITUAL, CARING MAN WITH INTEGRITY.
THE ONE WHO CAN HANDLE RESPONSIBILITIES and HAS SELF DISCIPLINE - THAT GUARANTEES YOU ARE A "SUCCESSFUL" MAN WHO HAS EVERYTHING IN ORDER - HEALTH, WEALTH, HAPPINESS, LOVE (I CAN HELP YOU WITH THE LAST ONE).
IF YOU THINK I AM NOT YOUR TYPE - WE SHOULD CANCEL A DATE
IF YOU THINK ALL NATURAL 36C IS NOT PERFECT FOR YOU AND YOU LIKE PLASTIC BARBIES OR EXCESSIVE MAKE UP OR FAKE BREASTS AND EYE LASHES OR BLONDES - WE SHOULD CANCEL A DATE
IF YOU ARE AGGRESSIVE/ANGRY/TOO DOMINANT - WE SHOULD CANCEL A DATE
IF YOU HAVE DANGEROUS FOR ME HEALTH ISSUES (INCLUDING MENTAL HEALTH AND STDs) - WE SHOULD CANCEL A DATE
IF YOU ARE THE MAN WHO IS DRIVEN BY ONLY THE DESIRE TO TAKE - WE SHOULD CANCEL A DATE
IF YOU ARE NOT SPIRITUAL AND/OR INTELLECTUAL PERSON - WE WON'T BE ABLE TO ESTABLISH CONNECTION - WE SHOULD CANCEL A DATE
IF YOU WANT TO SHOW ME DISRESPECT OF ANY KIND (NOT EVEN SURE IT IS POSSIBLE, AS I AM ONE OF THE HIGHEST ACHIEVERS AMONG YOUNG WOMEN) - WE SHOULD CANCEL A DATE
I AM A LOVER, HEALER, INSPIRATION, HOPE AND A WILDEST DREAM FOR MALE HUMAN KIND, SO PLEASE, DON'T INTERFERE WITH ME ACCOMPLISHING MY MISSIONS. LIFE IS SHORT. NO TIME TO WASTE. I WANT TO MAKE A POSITIVE IMPACT.