+

A Sweet And Savory Experience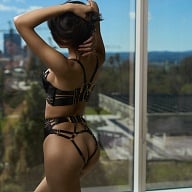 Hello, new friend! It's a pleasure to make your acquaintance. I'm Mila, a California native with a deep love for sunsets and breathtaking ocean vistas. I embrace the winds of change, constantly seeking new adventures and crafting unforgettable moments. Though I am an open book, there's an air of mystery about me that defies simple description. My thirst for knowledge knows no bounds, and my artistic spirit is ever-evolving. One of my core beliefs centers around the incredible power of human connection. I believe that fostering meaningful connections with others is essential for personal growth and fulfillment. It is through the exchange of authentic emotions, shared experiences, and a mutual understanding that we tap into the true essence of human existence. The feeling of being cherished resonates deeply within me, and I reciprocate that sentiment wholeheartedly. Self-care occupies an essential role in my journey; I make a conscious effort to nurture myself through invigorating Pilates classes, rejuvenating spa retreats, and indulgent visits to the salon. Passion fuels my endeavors, and I choose my companions carefully, favoring those who embody kindness, respect, and a genuine appreciation for the dynamics of a woman's spirit. Kindly note that my schedule is quite busy, and I prioritize longer engagements with great enthusiasm.
Anticipating our encounter,
Mila
The Look
Mila Belle is a 21 year old woman with shoulder length brunette hair and brown eyes.
She is available for Male only.
Expectations
Screening with a deposit is mandatory for all bookings.
3 hours 4,500
4 hours 5,500
5 hours 6,000
6 hours 6,500
Overnight 12-14 hours 10,000
24 hours 15,000
*Please review my wesbite for full details and information