+

Tall, whip-smart, & built like a goddess!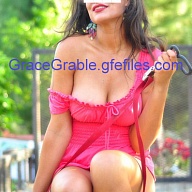 "Time flies like an arrow; fruit flies like a banana." (See? Told ya it was dorky!)
Howdy! I'm Grace.
I'm a caring, responsive woman offering warm, holistic and discreet feminine companionship - in a word - the BEST companionship you've ever experienced!
My aim is for you to feel completely and totally recharged — even electrified!
I'm the happiest companion I know — I'd have to say that it's just really fun to be me - you'll always catch me smiling or laughing! This job is my ultimate calling - I'm completely in love with my job!
I'm extremely passionate about what I do and the experience I craft for you - what I hope to create for you is an escape - a sanctuary really - a little hideaway from your day, a chance to forget yourself, your worries and your responsibilities for a time, and just allow yourself to be plunged into the world I create for us…
I really value my genuine, feminine vulnerability - so my authentic responsiveness is real - I intend to enjoy this as much as you do!
I'm exactly 5'11.5" tall, so I tend to strike people as statuesque - in fact I should warm you now - I definitely turn heads when I walk down the street!
That's why I try to stick to sidewalks. (HarHarHar — yep - that's my dorky sense of humor alright!)
Oh yes - yes we'll be laughing a lot when we're together!
Thank you SO much for taking the time to learn a little bit about me - I love that I'm outgoing, engaging and very friendly - so let's share some exciting adventures together!
I genuinely care about you and your time and experience, so I'm always punctual! I take great delight in making you want to come back for more.
Email or text me right now so we can meet soon!
Much Love,
Gracie (Grable!)
The Look
Grace Grable is a 6' 32 year old caucasian woman with long brunette hair and hazel eyes.
She is available for Male, Female, and Couples.
Interests
I'm a published author - I just adore writing short stories and essays - I've even got a novel in the works! So it goes without saying that I'm a word nerd lol - my favorite novelists are Jonathan Franzen, Ken Follett, Robert Goolrick, and Flannery O'Connor.
My former job in an office didn't allow me the time to write - by the time I got home from a long, stressful day at the office I'd have no energy for creative writing. Enter my quest for Patrons! And here you are… :)
I'm also crazy about cooking! I love crafting delicious yet healthy dishes - absolutely love getting creative and "free-styling" in the kitchen - care to join me? ;)
I also love swimming and lifting weights in the gym - gotta stay strong! ;)
I can't wait to hear all about you and what you're passionate about!
Expectations
I'm so glad you're thinking about spending time with me!
I'm available pretty much 24/7 - with enough notice - which could be as little as an hour or two - or, if I'm far at the moment, several hours. Of course a day or two notice is definitely appreciated!
I greatly prefer multi-hour lunch or dinner dates.
Please see my website for more details!
Here are the donations I request for my time:
A lunch or dinner date (my preference!) - up to 5 hours - $1,190
A cocktails date (also great!) - up to 3 hours - $990
A true exploration date - up to 2 hours - $790
An intro-plus date - up to 90 minutes - $690
An introduction date - one hour - $390.
SCREENING: never fun but always required! I always screen each brand new client only - without exception.
Please choose 1 of the 3 following screening options:
1. Two references from women in my line of work you've seen previously - Their name and number or email.
2. Your P411 ID.
3. Your full name, employer, work website & number - this is for confirmation only and I delete this info immediately upon confirming you. And I'll never call you without first making sure it's okay with you!
Please see my website for more information at www.gracegrable.com
I truly can't wait for your text (323-609-3447) or email (gracegrable@gmail.com) so we can begin our adventure together!
You are so very appreciated!