+

LA 1/24-25 | Exquisite Minx & Adventurous Kinky Catch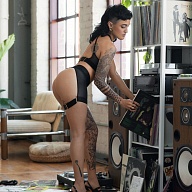 "To me, beauty is looks you can never forget. A face should jolt, not soothe" - John Waters
I am a confident and unique charmer who will stir your imagination and ignite your soul. An unconventional creature with a creative and open mind to mirror your own.
Evident in my large piercing eyes, olive skin, and intensely captivating dark features is a vivacious Jewish and Sicilian heritage. Like a true sensualist, I possess a voracious appetite for an array of earthly delights.
As a visual artist of many mediums, I find that my enthusiasm to craft indulgent experiences is an extension of this passion- whether it's a classic or kinky date. After much time spent in separate realms- initially as a companion and later as a pro-domme and fetishist, I take great joy in embodying my full range when fusing these passions. My interests are vast and my style is truly multifaceted as a dominant, submissive, or switch. For those that enjoy the simple things, I relish in classic companionship just as much.
Extended engagements are encouraged, as I prefer relationships that build closeness and unfold over time. Bedazzling your world just once with my presence brings me great happiness, but there's just so much of myself that I'd love to share with you. Let me take the lead.
Dynamic describes me well- I am a true shapeshifter. I'm a creature that boasts an array of styles and transcends binaries. Born on a Mars/Venus cusp, I seamlessly blend hard femininity and soft masculinity. I'll surely be the babe that will steal your heart and stay smoldered in your memory.
I'm looking for an adventurous comrade, and perhaps that is you. We might inhabit such different spheres in this chaotic world- let's not miss our chance for them to collide.
___
Current Travel Schedule:
* LA: January 24-25
The Look
Devorah Reine is a 5'2", slender, 31 year old caucasian woman with medium length black hair and brown eyes.
She is available for Male, Female, Couples, Trans, Disability, Groups, and Non Binary.
Presentation
Feminine
Interests
I'm a lifelong visual artist that's passionate about drawing, painting, sculpture, crafts, and sewing to name a few mediums. Perhaps you'll let me draw your portrait, or you can draw me. As an amateur herbalist, making tinctures and flower essences brings me great joy. I listen to music almost constantly and have been collecting and mixing records for 13 years. Lately I'm delving into producing electronic music and plan on getting some analog hardware. One might call me a jack-of-all-trades.
I stay active through biking, weight lifting, yoga, hiking, and dancing. Documentaries and experimental film often capture my attention. I'm an avid reader with my favorites being memoirs, theory, zines, science fiction, and graphic novels.
Activities I love to partake in with a date include art or fitness classes, fine dining, art museum dates, spa visits, camping, exploring the outdoors, and travel. Equally enticing is curling up together with a cocktail or tea while listening to music or watching a movie.
Why yes, I love being spoiled with gifts. I adore jasmine flowers, carnivorous plants, succulents, and cactuses for my home. For thr palette- herbal tea, local honey, dark dairy-free chocolate, fine whiskey and bourbon, dry white wine, and mead (honey wine). For my collections- books, vinyl records, exquisite lingerie, latex, and leather goods.
Expectations
For new friends- fill out the form on my website to request a meeting with me. Only completed contact forms and emails which include all of the requested information will receive a response.
I require a deposit for all dates.
Consideration:
1 hour - $800
2 hour - $1300
3 hour - $1700 (cocktails)
4 hour - $2200 (dinner)
6 hour - $3000
8 hour - $4000
16 hour - $5000 (overnight)
See website for longer packages, and screen with me to view my Exclusive Experiences.
__
Fly Me To You:
I live in the SF Bay Area, but delight in being swooped up out of town to come to you, or even going on a trip together. No matter the mode of transportation - I'm happy to entertain travel on your schedule
3 hour minimum for travel to North Bay, South Bay, Marin County, etc.
4 hour minimum for travel to West Coast and Pacific Northwest cities.
6 hour minimum for national fly-me to other regions.