+

My name is Owen Quinn a modern male companion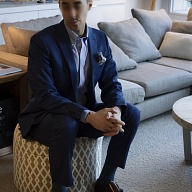 A gentleman is one who puts more into the world then he takes out
I am pleased that I've piqued your interest and hope that you may find what you're looking for here. As a modern gentleman, pleasantries are a must - so allow me to introduce myself…
Think of me as a man of the modern world - I have loved, lost and learned much in my 30 something years but always maintain a positive outlook on what the future holds for me. I have made global travel an utmost priority so that I may be privileged enough to experience everything the world has to offer. In our time together, I want to share as much of what I've learned with you… And for you to bestow your experiences upon me. While the majority of my time is consumed with my conventional career, I relish in the company of a newfound flame and thoroughly enjoy bringing new experiences to their life.
Born and raised in rural Northern Canada, I value hard work and perseverance above all else. I grew up with an appreciation of nature and all its complexity, though my education has brought me into a more traditional metropolitan setting. Picture me a traditional country gentleman with a modern sensibility. Though it might sound like an oxymoron, I do believe a man can be both masculine and strong while being perceptive and intuitive to the world around him. I consider my best attribute to be my approachability and genuine interest in learning as much about other individuals' experiences while respecting their personal boundaries.
As a bit of a chameleon, I am able to tailor our encounter to fit whatever the occasion requires. Whether that may be a formal setting or a more personal setting, or anything in between. After all, nothing is better than a well tailored suit so let's apply that same idea to our time together.
The Look
Owen Quinn is a tall, all natural, 35 year old caucasian man with short black hair and brown eyes.
He is available for Women, and Couples.
Interests
Cooking, exploring the outdoors, snowboarding, travel, hockey, the martial arts and anything with any engine…
Expectations
While I would like nothing more than to be able to accommodate everyone. Keep in mind that I have a traditional career and my availability can be limited. I try my best to fufill all respectful requests but am typically only available through advanced pre-booking. So please review my site for more detail and feel free to contact me for availability, or any other questions you may have.