+

Queen of Bizarre Kink, Aspasia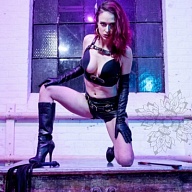 I'm a lifestyle kinkster + experience collector, Pro Dominatrix/ BDSM practitioner and pansexual hedonist.
I experiment everyday and love BDSM and kink. I'm happy giving via the dominant role in kinky explorations and sensory training/experience, whether it's Femdom, Pagan Worship, a Kinkster guiding another, a
friendly sadist or weirdo to chat to, a disciplinarian to motivate and help you tackle goals or stress, a Gonzo Goddess to dress you up. I love this, make no mistake, it's a key part of my being and expression in this life. Nothing has to be boring, the mundane can be stirred and reshaped.
That being said, I negotiate risk-aware and with safe words. I start slow with newbies and always check in, as well as check in post scene to tackle questions and feels. I believe BDSM and learning to negotiate and find one's strength in safe and intense situations can improve all areas of life. Kink + creative explorations of the self have always been such a core part of my being. I think navigating BDSM brings people closer together, I believe in giving people a lot of space to be freaks, radical love + support and harm reduction in the things we try in life, because we are here to enjoy ourselves in between all the junk. I do what I do so I can share that with more people: my approaches, my experience + my care.
I'm an active dominant, more into doing things to people and fun themes than sitting in a chair and doing nothing but I can provide that for human furniture. I offer private scenes as well as outings, hit up shindigs, or meet for small kinky take out packages such as panties, specialty coffee or sissy packages, shopping trips + distance training as well as phone calls when available, and I'm an early riser for those of you looking to be whooped before work. I specialize in several areas in relation to kink/ BSDM: percussion is one of them, scents, dehumanization, crossdressing/ gender scenes, odd themes, weirdness, kinky tourism, foot fetish and more.
Expand your life experience, Submit to the Contessa, Queen of Bizarre Kink + Sadistic Shenanigans!

~Aspasia~
The Look
Aspasia is a 5'5", slender, all natural, 34 year old caucasian woman with medium length red hair and hazel eyes.
She is available for Men, and Women.
Interests
I split my time between enjoying city hedonism and heading off grid for foraging + homesteading with other freaks. I'm constantly learning, love libraries, am a foodie for sure, love multiple varieties of music incl. live bands and electronic music (and it's festivals). Costumes, nonsense and sensory fiending (challenging things, new spices or textures, float tanks, the desert etc) are things that I work with and explore outside of kink as well. I have a bit of a background in ancient history, love to hike and camp and have started refreshing a lot of my herbal knowledge from years ago (pre backpacking/ art commune years) to level up my Ontario foraging and camp knowledge. Would love to learn to ferment, working on learning the Ukelele + circus flow arts. Originally from the east coast, every now and then I'll drop my accent eh- right Canadian of me.
Expectations
I offer the option of live time training or servitude in Toronto (since 2007) to well-behaved submissives. I've met and played with lots of excellent people (and consensually bullied "losers" :P) at varying levels of experience. Every Live Experience involves a cleared Deposit, completed Screening and Advanced Notice. Booking + Screening are usually done via email. My availability is (M-F + 8am-10pm): weekends are rare and often booked 2+ weeks out. Several days notice is recommended, no same-day bookings for new submissives. Outcalls, Texting to book and short Scripts are earned through good behaviour and regular servitude, as well as greater booking flexibility: it takes growth and attentiveness to get to regular servitude and it's worth it.