+

Your new favourite Toronto based beauty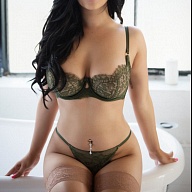 Known best for my bubbly personality and perfect smile
Toronto Bombshell
Where do I start…
I was born and raised in Toronto, but I'm often travelling and seeking new adventures around the world. I seem to find myself in the Caribbean a lot, so calling me a beach type of girl would be accurate. Nothing better then soaking up some sun with a bright coloured bikini on, or so i'd like to think. I'm hoping to break this cycle soon and explore parts of Europe that I haven't already seen. I'm petite, standing at 5'1 with all natural curves, and a bubbly personality you'll love.
Eating healthy and staying active is something I truly live by, in all honesty, going on early morning hikes is one of my absolute favourite things to do. Fortunately, I live close to many hiking trails with beautiful scenery that I just can't get enough of. When it comes to diet, I do have a few resrictions, so please ask me what these are if you plan on bringing food.
Lastly, here are some things about my appearance that you might not have been able to pick up by viewing my photos. Although I may look tall, I'm actually very petite, only standing at 5'1. I'm sure you've noticed I'm quite busty, to answer your question, yes, they are real! Fake nails are a thing of the past for me, I now have manicured and painted natural nails, I find this cleaner and much prettier now that they've grown out nicely. I don't wear extensions and my makeup is tasteful, never overdone. Book a date with me and see for yourself.
* Real Curves
* Manicured Natural Nails
* No Extensions
* Tasteful makeup
The Look
adrianaluxx is a 5'1", curvy, 25 year old caucasian woman with long brunette hair and green eyes.
She is available for Male, Female, and Couples.
Interests
The good thing about Toronto being a multicultural city, is that there's so many different types of food to try! Getting to know each other over a glass of wine and good food sounds lovely, doesn't it? If you'd like to treat me to something else after that, I enjoy anything involving music, dance, and art.
Growing up in a spirtitual environment and taking many courses on energy healing, I can assure you I will give off, and only want to receive, positivity. I meditate daily, take yoga classes weekly, and collect crystals for energy healing. If you're looking to impress me, a gift along these lines would be the way to go.
Here's a fun date idea, The Toronto International Film Festival has arrived and nothing excites me more then being someone's arm candy. I'm a lover of all types of films, so I'm open to seeing whatever you decide. Email me and tell me what you're interested in, I'd love to hear.
Expectations
When we meet I expect you to respect my body and my time, if you're unsure if something is unacceptable, just simply ask me. Hygiene is crucial, please make sure you show up looking and smelling your best as I will do the same. Booking is done via email only, contacting me other ways may result in a delayed response. I look forward to meeting you!