+

Find a devilishly good time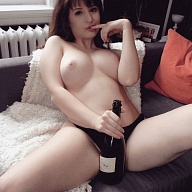 Everything in moderation, including moderation.
A young woman personally dedicated to intrigue, hedonistic pleasures, and playful exploitation of the male gaze. Capricious coquette, darling decadent dreamgirl, elusive exclusive enigmatic enamorada- let me show you what makes me a treasure to so many. Born abroad and raised internationally, I've been blessed with a wealth of experiences in my short life, as well as the education to put those experiences in context, and the spirit to continue seeking out such experiences; in books, on airplanes, and in the arms and minds of cherished friends. Beyond just crafting thrilling moments and heart-stopping connections, I seek to find synergy and create a memory that neither one of us could manufacture alone. I seek to discover meaningful truths about the world around us and not to reach the established peak of epicurian delight, but to build our own and stand atop it laughing with you.
Our time together is premeditated- whether in my boudoir or out and about in the city, I curate novelty, pleasure, and feasts for your senses. I consider myself many things; intuitive, sensual, and hugely enthusiastic with a wild, experimental streak- but ultimately, that is yours to find out. A story can only tell you so much, no matter how pretty the words, and if you wish to know more, my secrets are yours to discover.
And best of all, I am visiting your city. May 17th-20th- get ready.
The Look
Talia Vice is a 5'5", slender, all natural, 21 year old caucasian / latina woman with long brunette hair and hazel eyes.
She is available for Men only.
Interests
I like to keep my time at university interesting by partaking in a lot of casual hedonism on the side- and this is even more fun with company. Most recently my interests have been leaning strongly towards photography (I love being both infront of and behind the camera) and adrenergic sports (I'm an avid snowboarder and a rapidly improving rock climber), but anything that makes my heart race or stop is guaranteed to be an instant favourite. Horror movies, seeking amazing vistas, and hearing tales of travel are classic past times. I am also a voracious reader- especially when it comes to the philosophy of love and war, and the psychology of conflict resolution. More than just an incorrigible flirt, I'm very eager to exchange ideas about the world around us and how it works. Should we meet, you will likely find me both insatiably curious and curiously insatiable.
Expectations
All the information required for a smooth and successfull booking can be found on my website www.ottawavice.com, and I would hate to do anyone the disservice of directing them away from such a resource.
Contact emails should contain:
[Name and Contact Information]
[Description]
[When, Where, How long (please confirm my rates on my website)]
[Screening Information ]
[References]
Without the above, I'm afraid your request will be placed at the bottom of the priority list- which frequently means our meeting won't be in the cards.