+

Rose Delacourt - Canada's famous sweetheart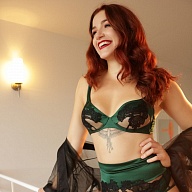 The one who does not remember history is bound to live through it again
You've heard of me, you've read about me and you might have even dreamed of me. Nothing has quite prepared you for the reality of meeting me face to face. I open the door and it hits you all at once; like the exhilarating feeling of a cold shower but combined with the warmth and wonder that comes while watching day melt into night during a beautiful ocean sunset. Truly breathtaking.
You come in, still nervous but more sure of your choice now. It's like I've been expecting you all day and maybe I have. It is a welcome of a friend who hasn't seen you in a long time. My warmth surrounds you. My delicate smell of vanilla and citrus, my enchanting voice asking you how your day is going and my smile intoxicate you. Nothing about me screams discomfort, or shyness. You're even surprised that I exude such confidence at 23 years old. You take a second to look at me, really look at me. I am pouring you a glass of water while wearing the most exquisite lingerie. You can tell I'm an athlete. My legs and arms are toned and muscular, while my soft skin and beautiful curves belie that I am completely feminine. A paradox you wish to explore.
I sit down next to you and it begins: a new friendship, a beautiful connection, a love story.
The Look
Rose Delacourt is a 5'7", curvy, 23 year old caucasian woman with medium length red hair and brown eyes.
She is available for Male, Female, and Couples.
Interests
I am a very simple sweetheart who enjoys the little things in life. When I'm not meeting new suitors, I'm out exploring the world, pushing my boundaries in my sport, eating all the food and drinking a good americano. I also love cuddling my cats. I am a huge fan of history, tv shows and actions movies. I can hold any conversation brilliantly and with my adorable french accent to boot.
Expectations
Meeting me is a fairly simple process. I have a website, in which I've invested hours of my time. You may read it (and you'll probably enjoy it ;) ). Then you can send me a nicely written email, to which I'll probably reply in less then 24hours and we're on the road to amazingness. I usually travel to Winnipeg, St-Johns, Toronto and Halifax (10am to 10pm) and the rest of the time I'm in Montreal (12pm to 9pm). Let's have fun :)
My rates can be found on my website and reviews are plentiful and can be provided upon request.