+

Let's be irrational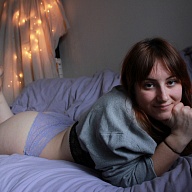 Weirdo, bitcoin collector, wannabe rationalist, Bowie fan, intellectual and dog mom.
After reading this, you may think that I am the weirdest person on earth. Or, you may relate to the strangeness of my life. My suggestion? Read me.
To understand how I got here, you have to understand the back story that led me to write this half-drunk story of my life at 3pm in the afternoon. Some may consider this leisure activity unchristian, so let me reassure you that it is. If your want to run away from the screen before you do anything deemed wrong, here is your chance. You may still have a chance to avoid burning in the fire after you draw your last breath. No use to try to save me, transgression has already been done. I have made my peace with hell.
At 4 years old, my mom died and my drunk father left me to two family friends and ran away only to never come back. Sorry, I am making this more dramatic than it actually is. I got super lucky. My adoptive parents were simply amazing and held my weirdness close to their heart. Believe me, to get here, it had to be very much reinforced.
If I was an animal, I would be a bird. Flying from places to places and chipping-away until the day my clumsiness causes me to fly unto an electric cord and die. Death, to me, is as simple as choosing your underwear. One small decision and suddenly I am inexistent. Illumination occurred in summer 2019 on a pretty wild night. Ask me about it.
After 4 years of suffering of workaholism through having a 10 employees business, I sold that weight off of my shoulders and started living.
I enjoy getting people to take off their shells, masks, whatever-thing-holding-them-back. I decided to be full-time unexpected and simply do things that consequently make me happy (you could say I am a bit of a utilitarian). A few places you can find me on your daily lives:
1. A bitcoin ATM near you (no, I don't attract men there. I collect bitcoins.)
2. Montreal's rationalists communities
3. Sneaking into uni philosophy classes
4. Feminist actions nearby
5. Sneaking my dog into the metro
6. Listening to old-school music and dancing in my living room
7. Eating vegan left-overs
8. Baking a wedding cake with no wedding in sight (ask, and you might get some)
9. Having a try at coding (learning Python)
10. Drowning my psychologist's office in my deep sorrows.
11. Collecting data about the efficiency of my morning routine.
Here is the fun thing: I am happy. I am finding myself walking around town with an awkward smile on my face for no particular reason. Work is not everything. And every now and then, or all of the time, I have to be independent of people's expectations of me. You do too. Lesson here? To-hell expectations. You do you.
The Look
Adele Joy is a 5'3", curvy, 22 year old caucasian woman with long red hair and hazel eyes.
She is available for Male, Female, Couples, and Trans.
Interests
Interests include, but are not exclusive to:
Reading intellectual books and feeling pretencious doing so.
Backpacking through the world's most intense and dangerous places. I have a thing for danger.
Coding. Or watching people code.
Writing things that make people feel weird.
Cooking for people and looking at them intensely while they eat to figure out if they really like it or not.
Expectations
Discreet deposits + an open-mind.