+

Brinley and the Chocolate Factory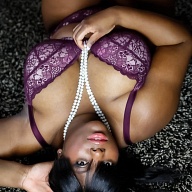 "Everything you can imagine is real."
So what do you think? You're scrolling through my ad, looking at my pictures, evident. Does my smooth dark skin turn you on? It should, its smooth as silk, and just imagine, if you were able to touch it…or even kiss it? Mmm, how do you feel now? While you're staring at my pictures, take note of my measurements. I'm on the extreme curvaceous size, I consider myself a small BBW. What else do you want to know? Attentive I am, sensual and high spirited, I believe I'm the total package, and I think you and me would be a perfect fit. Are you searching for reviews? I don't have any yet, maybe you can be the first to write one! So go ahead take a chance you won't regret it.
Interests
I enjoy fine dining and cuisine from a array of different cultures. I consider myself a foodie, with an experienced palate. When I am not dining, I enjoy the arts. Plays and Operas are my favorite shows to watch live. I am also a movie fan, and I enjoy concerts. Lastly I am a book warm, I enjoy to read, and my favorite arthur is John Grisham, for his drama, and suspense.
Hmmm, favorite gifts include: Chocolate, Lily flowers(orinetal) and charms from Pandora.
Expectations
My avilability is Wednesday, Thursday, Friday, and Saturday
If you have a grocery list of questions for me, or any concerns please feel free to email me. It will be much easier for me to answer your questions in that form. For brief questions please feel free to text/call me at your convience.
Please visit my website for detailed information about me and my donations.